Ruth Downie Interview
July 2, 2009
HistoricalNovels.info interviews
the author of Persona Non Grata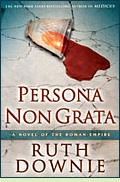 The first mystery in Ruth Downie's Gaius Petreius Ruso series, Medicus, about a Roman army doctor posted in Britain, was a New York Times bestseller. Persona Non Grata is the third in the series, and we were fortunate to be able to interview the author, Ruth Downie, on July 2, 2009

What gave you the idea to write about a physician sleuth?
Actually Ruso didn't start out as a sleuth - I foisted that upon him later. He was created for a 'start a novel' competition run by the Historical Novel Society. I wanted a character in tension, and decided to have an off-duty medic torn between his moral duty to help someone in need and his wariness of getting involved in somebody else's problems. I managed to bluff for the required three chapters, but when it came to writing the rest of the book I had to get down to some serious research.

Tilla, a/k/a "Darlughdacha of the Corionotatae among the people of the Brigantes in Britannia," is an especially lively and engaging character. Relatively little is known about the Brigantes. How did you research Tilla's cultural heritage and world view?
Researching the Ancient Britons is tricky because we have almost no written sources beyond the dubious opinions of visiting Romans. There are plenty of wonderful Celtic tales but we don't know how old they are, nor how much was changed by the monks who finally wrote them down. Of course we can still walk the landscape and there's plenty of archaeology. Unfortunately pots and post-holes don't speak for themselves, but I spent many happy hours wandering around modern reconstructions of Iron Age houses. In the process I learned all sorts of things that don't necessarily appear in the books, but hopefully underpin the text.
My own stabs at recreating ancient skills have given me enormous respect for our ancestors. Woad plants aren't hard to grow, but my attempt at dyeing was hopeless. Spinning a fleece on a hand-held spindle takes ages, and shows just how valuable clothing must have been.

Your opening scene, in which an unfortunate man finds himself trapped in the hold of a cargo ship, is alarmingly vivid. Do you sail?
I spent my childhood summers in a coastal town where the sound of the maroon would bring the local butcher rushing out of his shop to grab his bike and pedal down the hill to become part of the lifeboat crew, so I have great respect for the power of the sea. I've only done enough sailing to find out what a coward I am - perhaps some of my own terror is captured in that chapter!


---


Review of Personal Non Grata by Ruth Downie
See listing for Persona Non Grata at Powell's Books
See listing for Persona Non Grata at Amazon.com