Rustication
by Charles Palliser

Reviewed by Margaret Donsbach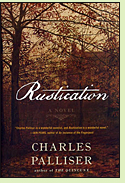 As Rustication begins, seventeen-year-old Richard Shenstone has just been "rusticated," sent home from university in disgrace. It's December 1864, and his mother and sister are living in near-poverty in Herriard House, the ill-kept mansion to which they moved after his father's death, just a few weeks previously. Chilly and badly lit, the mansion with its "muddle of high chimneys" harbors "a dark ancient smell as of things long decaying." Richard is not warmly welcomed in this unfamiliar place; when he arrives, his mother mistakes him for someone else, and his sister is frankly rude. Their one servant is a nervous girl of fourteen who seems afraid to speak.
Richard naturally wants to know who his mother mistook him for, how his father died and why his sister has been out in the rain in a velvet gown, and to receive explanations for a host of other odd circumstances, but his questions are shunted aside. Not only his mother and sister, but almost everyone in their small village - most of them brimful of resentments and spite - seem to be guarding secrets. Richard has his own secrets, which he only gradually reveals to the reader; Rustication is written in his voice as a series of journal entries, augmented by some of the vicious poison-pen letters sent by an unknown person to Richard's mother and others in the village.
Teasingly partial revelations lead readers deeper and deeper into a web of mysteries. Readers who aren't too put off by the narrator's personality will find the novel a compulsive page-turner; shallow, self-indulgent Richard is almost as unlikeable as the people surrounding him, at least one of whom will turn murderous late in the novel. Although this atmospheric Gothic suspense novel doesn't fit the typical murder-mystery pattern, its eerie puzzle satisfies in much the same way. (2013, 323 pages)
More about Rustication at Powell's Books
or
Amazon.com
Other literary mysteries set in nineteenth-century England:
Tom-All-Alone's
by Lynn Shepherd (2012; titled
The Solitary House
in the U.S.), a spin-off from the Dickens novel
Bleak House
in which an unfairly dismissed policeman trying to make a living as a private detective accepts a job from sinister lawyer Edward Tulkinghorn. See
review
or
more info at Powell's Books
Rose
by Martin Cruz Smith (1996), a thriller about a man assigned to find a missing curate in a nineteenth-century Lancashire coal-mining town.
More info
The Face of a Stranger
by Anne Perry (1990), about a Victorian police officer with amnesia who must investigate his own past along with the murder he's been assigned to; #1 in the William Monk mystery series.
More info
Nonfiction about the history of the University of Cambridge:
A Concise History of the University of Cambridge
by Elisabeth Leedham-Green (1996).
More info
Oxford and Cambridge: An Uncommon History
by Peter Sager (2006).
More info
Online:
History of European Research Universities
at Wikipedia
Back to Novels of Nineteenth-Century Europe
Back to Directory of Book Reviews