The Ruby in the Smoke
by Philip Pullman
Reviewed by Margaret Donsbach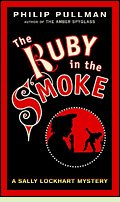 "On a cold, fretful afternoon in early October, 1872," begins The Ruby in the Smoke, as Sally Lockhart, aged approximately sixteen, descends from a hansom cab and enters the London offices of her father's shipping firm. Her father recently perished when his ship sank for reasons that remain mysterious. Sally has received an unsigned, badly spelled note that contains an obscure warning. She is determined to find out what it means.
Nineteenth-century London was full of destitute orphans, violent criminals and despairing opium smokers. It could be a terrifying place, even for a girl whose father gave her "a little Belgian pistol ... and taught her to shoot." For Sally, the danger is magnified by the disappearance of "the famous Ruby of Agrapur," a gigantic, accursed jewel which "had been responsible for deaths too many to list - murders, suicides, executions - and once it had been the cause of a war in which the population of an entire province had been put to the sword." There are people in London who believe Sally possesses the ruby or knows how to find it, and who will do anything to get it. But Sally also meets kind and loyal friends she can rely on for help.
Strong readers who like a period flavor and a tense adventure story full of hair-raising danger will enjoy The Ruby in the Smoke. Some scenes may be too frightening for younger readers. There is plenty of murder and mayhem and, although the gore is not explicitly described, the characters come so vividly to life that the suspense can be powerful when they are threatened with fates as horrifying as anything in a Brothers Grimm fairy tale. (1985; 230 pages.)
More about The Ruby in the Smoke at Powell's Books or Amazon.com

Other YA mysteries set in nineteenth-century London:
The Shadow in the North by Philip Pullman (1989), #2 in the Sally Lockhart series. More info
A Spy in the House by Y.S. Lee (2010), about a London girl rescued from the gallows and trained in detective work; #1 in the Agency trilogy. More info
The Season by Sarah MacLean (2009), a mystery/romance about a seventeen-year-old debutante who tries to help an earl's son find out the truth behind his father's death. More info

Nonfiction about nineteenth-century London:
Charles Dickens edited by Harold Maltz (2003), about the author whose novels about the abuse of poor children in Victorian London led to reforms in orphanages and work houses. More info
A Home for Foundlings by Marthe Jocelyn (2005), about the lives of children in a London orphanage. More info
The World 100 Years Ago: London by Burton Holmes (1997). More info

At the Movies:
Ruby In the Smoke
, a 2007 Masterpiece Theatre production starring Billie Piper as Sally.

Online:
Orphans in 19th Century Victorian England



Back to Young Adult Novels: 19th Century Europe

Back to Directory of Book Reviews