Royal Blood
by Rhys Bowen
Reviewed by Susan Gillmor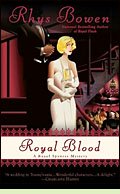 Royal blood is thick on the ground (so to speak) through this fourth installment in Rhys Bowen's Lady Georgiana Rannoch mystery series. Georgie is thirty-fourth in line to the British throne and penniless when her cousin the Queen summons her to represent the throne at a royal wedding in Transylvania in November of 1932. An important, if not royal, Romanian official drops dead at dinner, and Georgie must find the killer before she ends up in prison - or worse.
Georgie's retinue for the journey to Transylvania includes her inept maid Queenie, the dour Lady Middlesex and her companion Miss Deer-Harte, and Georgie's erstwhile beau Darcy O'Mara. The prospective bride, Princess Maria Theresa of Bulgaria, and her groom, Prince Nicholas of Romania, are surrounded by crowned and uncrowned blue-bloods from all over Europe as a major snowstorm strands the party at an ancient castle steeped in the lore of vampires and werewolves.
Mayhem, merriment, and murder follow, as if Agatha Christie had teamed up with the Keystone Kops. In quick succession, Georgie finds herself threatened with arrest by the head of Romania's secret service, her maid disappears, and Prince Siegfried ("Fishface") renews his loathsome efforts to ensnare her in a marriage of convenience. In addition to the human drama, an air of supernatural menace creeps around the edges of the action: "It must have been a sudden gust of wind that rattled the shutters," Georgie thinks. "There was no such thing as vampires. Even as I had this thought I felt a waft of icy air strike my face and the curtains moved."
Royal Blood is snappy and witty, relying on situational and occasionally slapstick comedy, all wielded with a talented and balanced hand. It stays true to the spirit of the series that began with Her Royal Spyness and continues to offer a lighthearted look at England - and in this episode a wider Europe - in the 1930s as it pokes good-humored fun at nobility. (2010; 305 pages)
More about Royal Blood at Powell's Books or Amazon.com

Other mysteries involving weddings:
The Serpent in the Garden by Janet Gleeson, about a fictional eighteenth century portrait painter and his attempt to solve the mystery surrounding two deaths and a couple whose wedding portrait he painted. More info
A Murderous Procession by Ariana Franklin (2010; also titled The Assassin's Prayer), about a woman physician who accompanies King Henry II's daughter, ten-year-old Joanna, on the trip to her bridegroom in Sicily, and must protect her from assassins on the way; #4 in the Mistress of the Art of Death series. Review or more info at Powell's Books
The Sanctuary Sparrow by Ellis Peters (1983), Brother Cadfael investigates the case of a young minstrel accused of theft and murder after playing for a wedding feast; #7 in the Brother Cadfael mystery series. More info

Nonfiction about royal weddings:
Notorious Royal Marriages: A Juicy Journey Through Nine Centuries of Dynasty, Destiny and Desire by Leslie Carroll (2010), about royal marriages from medieval times to the present. More info
Five Gold Rings by Jane Roberts (2007), about five weddings of English royalty from Queen Victoria to the 1947 wedding of Princess Elizabeth and Prince Philip of Greece. More info
Royal Weddings by Frederika Haedecke and Julia Melchior (2008), about royal weddings in Europe. More info

Online:
The 1932 wedding of Prince Gustav Adolf of Sweden and Princess Sybilla of Saxe-Coburg and Gotha at YouTube, including footage of a royal snit among the guests.



Back to 20th Century: Europe Between the Wars

Back to Directory of Book Reviews