Ross Poldark
by Winston Graham
Reviewed by Margaret Donsbach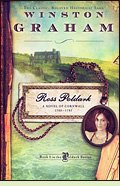 First in a twelve-novel series, Ross Poldark begins the Poldark family saga with Ross returning to Cornwall from the American war to find his late father's house and land in a state of near-ruin, the family servants selling off household valuables for drink, and his sweetheart engaged to his cousin. It is 1783. A brutal divide exists between gentry and working class, but the nature of the divide in Cornwall is more casual and permeable than in England.
In the mining community to which Ross returns, a mine owner can as often be found up to his knees in foul water at the bottom of his mine as dancing a minuet with a girl in silks and satins. The entertainment following the minuet may be a cockfight on the floor just vacated by the dancers. Ross's spinster cousin Verity labors on her family's land "in breeches and a smock ... indifferent to rain and wind" or stops to visit "in her working dress with no hat and her dove grey cloak pulled carelessly about her shoulders."
Though titled Ross Poldark, the novel is as much about Demelza Carne, the waif he impulsively hires as a housemaid to save her from a beating by her drunken father. "Ross was not oversensitive to the feelings of animals: it was not in his generation to be so, though he seldom hit one himself; but wanton cruelty to children offended him." Demelza's feelings toward him shade from apprehension to hero-worship and, as she grows to womanhood, something more, but she retains a streak of quirky independence all her own.
As readers turn the pages to find out who will marry whom and whether characters who flout the rules of law and society can escape unscathed, they will find themselves inadvertently absorbing a thorough history lesson about conditions in eighteenth-century Cornish mining communities. Ross Poldark ends on a satisfying note, but with changes ahead for more than one character. Those who enjoyed this novel will find it hard to resist plunging into the sequel. (1945; new Sourcebooks edition 2009, 314 pages)
More about Ross Poldark at Powell's Books or Amazon.com

Other historical novels set in Cornwall:
Demelza by Winston Graham (1946), the sequel to Ross Poldark. More info
Adam Loveday by Kate Tremayne (1999), about twin brothers in eighteenth-century Cornwall and their rivalry for the inheritance of the family estate and the love of a woman; #1 in the Loveday series.
More info
Frenchman's Creek by Daphne du Maurier (1941), about a woman who leaves her husband at the seventeenth-century court of King Charles II and goes to stay on his Cornish estate, where she encounters a dashing French pirate. More info

Nonfiction about the history of Cornwall:
Truro: History and Guide by Christine Parnell (2002), about the history of the Cornish town nearest to the Poldark family's estates. More info
The Story of Mining in Cornwall by Allen Buckley (2005). More info
Cornwall's Mining Heritage by Peter Stanier (1988). More info

At the Movies:
Poldark, the first four episodes in the 1977 BBC television series starring Robin Ellis as Ross Poldark and Angharad Rees as Demelza Carne.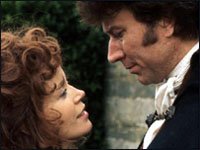 Online:
Cornish Mines and Mining History in Cornwall
Virtual tour of the upper levels of Poldark Mine




Back to Novels of the Eighteenth Century

Back to Directory of Book Reviews