The Rose Rent
By Ellis Peters
Reviewed by Susan Gillmor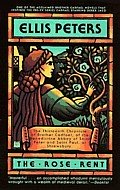 The Rose Rent, the thirteenth installment in the popular Brother Cadfael mystery series, is set in the fortified town of Shrewsbury in 1142. The untimely demise of Judith Perle's husband leaves her a wealthy young widow, sought after by many a townsman. But she has leased her most valuable possession to the abbey, asking only "[o]ne rose every year for the rent of the house and garden. . . where her man died," the sole "gesture of passion and grief and loss she ever made."
Young Brother Eluric is brutally slain while trying to prevent the wanton destruction of the bush that produces the rose rent. The plot thickens further when the beautiful Widow Perle disappears, feared abducted and in imminent danger. The suspects are many and the motive would seem to be preventing the payment of the annual rose rent. If the rose is not delivered on time, the cottage reverts to Judith's list of assets and any marriage partner would gain. The stakes are high, Brother Cadfael's detection skills have rarely been needed so desperately, and he does not disappoint.
English novelist Edith Pargeter, writing under her pseudonym of Ellis Peters, does not disappoint either in her skillful weaving of an intricate whodunit, ornamented with abundant historical detail, including the portrayal of an historically accurate late thaw and delayed planting that occurred in England in 1142, and how that affected Brother Cadfael's herbarium. We learn also about Judith Perle's clothier business, from "carding and teasing to the loom," and that "even the dyestuffs came seasonally, and last summer's crop of woad for the blues was generally used up by April or May."
Brother Cadfael's continued popularity is the result of the seamless blending of creative mystery plots with historical authenticity, as The Rose Rent beautifully illustrates. (1986, 190 pages)
More about The Rose Rent at Powell's Books

Other historical mysteries featuring roses, real and metaphorical:
The Apothecary Rose by Candace Robb (1994), in 1363, a spy masquerades as an apprentice in an apothecary shop to find out who poisoned an herbal remedy; #1 in the Owen Archer series. More info
The Midsummer Rose by Kate Sedley (2004), a fifteenth century chapman, or peddler, investigates after spending the night in a house rumored to be haunted and experiencing an attack by a mysterious being; #13 in the Roger the Chapman series. More info
The White Rose Murders by Paul Doherty writing as Michael Clynes (1991), in 1517, a series of murders are committed by an assassin who always leaves a white rose at the scene, the emblem of a secret society dedicated to overthrowing the Tudors; #1 in the Tudor Mysteries series. More info

Nonfiction on the history of roses and other medieval herbs:
Brother Cadfael's Herb Garden: An Illustrated Companion to Medieval Plants and Their Uses by Robin Whiteman and Rob Talbot (1996). More info
A History of the Fragrant Rose by Allen Paterson (2006). More info
The Rose: An Illustrated History by Peter Harkness (2003). More info

At the Movies:
The Rose Rent from the PBS Mystery! series starring Derek Jacobi as Brother Cadfael. More info from Amazon.com

Online:
Cadfael Chronicles, a website devoted to Ellis Peters and the Brother Cadfael mysteries.