The Road to Jerusalem
by Jan Guillou
Reviewed by Margaret Donsbach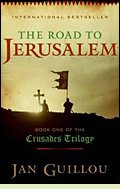 First in a trilogy about Swedes during the twelfth-century Crusades, The Road to Jerusalem centers on a young man whose life is twice turned upside down. Arn Magnusson is the son of an ambitious landowner and a woman both clever and visionary. His mother's piety and a startling event during his childhood land him in a Cistercian monastery, where he strives for a goodness near to sainthood. This being the age of the Crusades, Christian goodness can encompass skill with horses and weaponry. A monk with a more adventurous past finds Arn to be an eager, exceptional student.
As a young man, Arn is required to return to his family estate. Accustomed to the orderly restraint of monastery life, he finds the world outside bewildering. When his father slaughters "the fatted calf ... although in this instance it was a fatted suckling pig, which was much finer," the manly arts of feasting, drinking and revelry elude Arn. Beneath his monastic discipline, though, he is as masculine as anyone. His masculinity and innocence prove a potent combination in the secular world, catapulting him to extremes of triumph and shame.
The various provinces of Sweden, or Götaland, had only recently come together under the rule of a single king. It's a fascinating setting, similar in some ways to the rest of medieval Europe, particularly in the superstitious quality of medieval Christianity, but very different in other ways. Sweden had been more recently Christianized than England and the Continent, and the old values of the feasting hall still held sway. Kingship was far from absolute. Landowners gathered at intervals to decide matters according to their ancient laws, a rough-and-ready form of democracy prescribing single combat in certain situations.
The Road to Jerusalem is that rare pleasure, a historical novel that richly and authentically brings to life a setting not often explored and also features characters whose individuality delights, a plot full of surprises, plenty of humor, and themes worth pondering. (1998 in the original Swedish; English translation 2009 by Steven T. Murray; 398 pages)
More about The Road to Jerusalem at Powell's Books or Amazon.com

Other novels set in Scandinavia:
Daniel by Henning Mankell (2010), about an African boy orphaned when his parents are murdered, and the Swedish scientist who finds him in Cape Town in the 1870s and brings him back to Sweden where he tries to teach the boy to follow European customs. More info
The Bridal Wreath by Sigrid Undset (Norwegian edition 1920; first English translation 1923; also titled The Wreath), about a woman in fourteenth century Norway, by an author who won the Nobel prize; #1 in the Kristin Lavransdatter trilogy. See review or more info at Powell's Books
War of the Gods by Poul Anderson (1997), about the adventures of Hadding of Denmark; based on medieval Norse sagas. More info

Nonfiction about the history of Sweden:
Sweden: An Illustrated History by Martina Sprague (2005). More info
A Concise History of Sweden by Neil Kent (2008). More info
A History of the Swedish People: Volume I, From Prehistory to the Renaissance by Vilhelm Moburg (2005 in English translation). More info

Online:
How Medieval Peasants Prayed: Research from Sweden at www.Medievalists.net



Back to Novels of Medieval Scandinavia

Back to Directory of Book Reviews