A River in the Sky
by Elizabeth Peters
Reviewed by Margaret Donsbach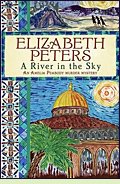 A River in the Sky is #19 in the Amelia Peabody mystery series about a husband-wife archaeology team who unearth freshly murdered bodies as often as mummified remains. It is 1910. Amelia (Mrs. Emerson for some time now) responds to her husband's remark that the Old Testament "is a tissue of lies from start to finish" with "a flank attack rather than a direct assault." Why, she wonders, is he reading the Bible. "Are you feeling quite well?"
There is a reason, of course. Soon, courtesy of the British War Office, which fears an inept amateur explorer named Morley may in fact be a German spy, they are off to dig in Jerusalem rather than their usual Egyptian haunts. Emerson's interest in preventing a clumsy, destructive dig lines up neatly with the government's interest in finding out what Morley is up to. Amelia is anxious, as well, to check up on their son Ramses, working on a dig north of Jerusalem at Samaria. He has, in fact, run into trouble and will shortly be in a worse predicament. Accompanying the Emerson party is Morley's discarded source of information, a hazy religious fanatic whose appetite seems healthier than his mental processes.
Fans of the series who appreciate its tart humor will not be disappointed by A River in the Sky. Neither Emerson nor Amelia suffer fools gladly, though they suffer them in somewhat different fashion. Amelia, who has learned not to mention her intuitive leaps, is practiced in forestalling Emerson's tactless outbursts or, when that cannot be achieved, soothing ruffled feelings. Despite the habitual candor and directness with which she astonishes the gentlemen at the War Office, she shares some opinions with the reader alone. "The process seemed haphazard and potentially dangerous. But after all, I reminded myself, the War Office was run by men." Before the mystery concludes, occasion will arise to use her famous parasol, "made to my specifications with a heavy steel shaft and somewhat pointed tip." (2010; 304 pages)
More about A River in the Sky at Powell's Books or Amazon.com

Other mysteries featuring archaeologists:
Crococile on the Sandbank by Elizabeth Peters (1975), #1 in the Amelia Peabody mystery series. More info
Murder in Mesopotamia by Agatha Christie (1936), Hercule Poirot investigates a case of murder at an archaeological excavation in Iraq. More info
Death at Bishop's Keep by Robin Paige (1994), about amateur sleuths in the Victorian era who investigate a death connected with an archaeological dig near near Essex, England. More info

Nonfiction about the history of archaeology and Biblical archaeology:
Tracing Archaeology's Past, edited by Andrew L. Christenson (1989).
More info
In the Valley of the Kings: Howard Carter and the Mystery of Tutankhamun's Tomb by Daniel Meyerson (2009), about Howard Carter's 1922 excavation. More info
Bible Archaeology: An Exploration of the History and Culture of Early Civilizations by Alfred Hoerth (2006), about modern archaeology in the Middle East and its relevance to the Bible. More info

At the Movies:
Murder in Mesopotamia
, the 2001 Masterpiece Theatre production based on Agatha Christie's mystery novel about a murder investigation at an archaeological dig, starring David Suchet as detective Hercule Poirot.



Back to the Amelia Peabody mystery series

Back to Directory of Book Reviews