Rival to the Queen
by Carolly Erickson
Reviewed by Margaret Donsbach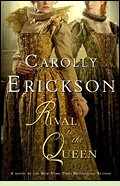 The narrator of Rival to the Queen is Lettice Knollys, who in 1578 secretly married Queen Elizabeth I's favorite, Robert Dudley, the Earl of Leicester. When Elizabeth learned of the marriage, she permanently banished Lettice from court. Her fury at the "she-wolf" who had snatched Leicester seems never to have abated, although Lettice's son by her first husband, Walter Devereux, the Earl of Essex, later rose to become Elizabeth's new favorite.
Erickson weaves plenty of fiction through the history, filling out the bare facts of Lettice's life to create a richly dramatic story. The novel begins during Mary Tudor's bloody reign, with thirteen-year-old Lettice watching her former tutor burned at the stake for professing the Protestant religion. Shortly afterward, Lettice and her family flee England for Frankfurt, Germany, where the Protestants show that they, too, can be harsh in enforcing their faith. When Elizabeth becomes queen, the family returns to England and Lettice joins her court, giving readers an intimate view of a vain, short-tempered, sometimes cruel queen.
Although the intelligent and perceptive Lettice holds the reader's sympathy with her grace in enduring a hard life, she too is vain, commenting, "I possessed the beauty that she lacked." As maid-of-honor, she sees the personal side of the court, only rarely glimpsing Elizabeth's political genius. In tune with the title, this is essentially a domestic novel, with Elizabethan politics kept mostly offstage.
Erickson's writing style is brisk, straightforward and easy to understand, avoiding explicit sex. Readers who are new to historical fiction or appreciate a lighter, more popular style may especially enjoy Rival to the Queen. Readers hoping to be immersed in a fully believable portrayal of Elizabethan court life may be disappointed. For example, the real Elizabeth, keenly aware of the importance of maintaining control of her image, probably would not have jotted her most intimate thoughts into a diary and left it lying open where a maid-of-honor might stumble across it. (2010; 296 pages)
More about Rival to the Queen at Powell's Books or Amazon.com
Interview with author Carolly Erickson

Other novels about Elizabeth's rivals for Robert Dudley's affection:
My Enemy the Queen by Victoria Holt (1978), an earlier novel about Lettice Knollys. More info
The Virgin's Lover by Philippa Gregory (2004), about Robert Dudley's first wife, Amy Robsart. More info
The Bright Day is Done by Judith Saxton (1974), historical romance about Amy Robsart, Robert Dudley's first wife. More info

Nonfiction about Robert Dudley:
Sweet Robin: A Biography of Robert Dudley, Earl of Leicester, 1533-1588 by Derek Wilson (1981). More info
The Uncrowned Kings of England: The Black History of the Dudleys and the Tudor Throne by Derek Wilson (2005). More info
Elizabeth and Leicester by Sarah Gristwood (2007). More info

At the Movies:
Elizabeth R
, the Emmy-Award-winning 1972 television series of six plays covering crucial periods in the life of Elizabeth I, starring Glenda Jackson; in Episode #3, "Shadow in the Sun," Elizabeth learns Dudley has married Lettice Knollys. Highly recommended.

Online:
Lettice Knollys at the Luminarium Encyclopedia Project website



Back to Novels of the Renaissance

Back to Directory of Book Reviews