The Richest Hill on Earth
by Richard S. Wheeler
Reviewed by Margaret Donsbach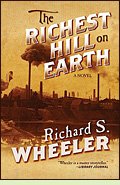 Butte, Montana, was known as "the richest hill on earth" during the heyday of the copper kings in the late nineteenth and early twentieth centuries. Here, a few ambitious men could amass fabulous wealth while an unfortunate multitude lived miserably and died young of diseases ranging from miner's lung to syphilis.
In 1892, the Amalgamated Copper Mining Company (later named Anaconda) was the biggest copper-producing mine in the world. Its owner Marcus Daly and his rival William A. Clark, a banker, smelter and mine owner, were the two major competitors for the copper wealth in and around Butte until F. Augustus Heinze got into the act. With an inheritance of $50,000, Heinze set himself up as a smelter and then used a legal loophole to extract ore from mines he didn't own.
The characters in The Richest Hill on Earth are all trying to make as much money as they can. Journalist J. Fellowes Hall also thinks Butte could be "the place for a distinguished newspaper editor to turn himself into a legend." Clark wants to be Senator and expects Hall to engineer this by slanting his newspaper stories; yellow journalism is the order of the day. Heinze relishes his scheming as much as the money it brings in. Butte's undertaker wants better pay for "planting" miners killed by their work. A fey seeress struggles with her distaste for the visions of disaster that allow her to make a living. A widow tries to scrape together enough to feed herself and her children and avoid freezing in Butte's bitter winters. None of these broadly sketched characters are particularly sympathetic; all are probably toned down from the ruthless and/or desperate denizens of copper-era Butte.
This is a novel that pushes its cynical message hard for some 300 pages before Hall and the Widow Brophy finally triumph, in their own individual ways, at least for a while. Humor lightens an unflinching picture of the suffering of the miners and their families. (2011; 358 pages, including an Author's Note discussing sources and separating fact from fiction)
More about The Richest Hill on Earth at Powell's Books or Amazon.com

Other novels revolving around mines:
City of Silver by Annamaria Alfieri (2009), a mystery set in the seventeenth-century silver mining city of Potosí, Peru. See review or more info at Powell's Books.
Ross Poldark: A Novel of Cornwall, 1783-1787 by Winston Graham (1945), set in a Cornish mining village during the late eighteenth century; first in a family saga series. See review or more info at Powell's Books.
Prayers for Sale by Sandra Dallas (2009), about two women who become friends in a Colorado mining town that has suffered during the Great Depression. See review or more info at Powell's Books

Nonfiction about the history of Butte:
The Battle for Butte: Mining and Politics on the Northern Frontier, 1864-1906 by Michael P. Malone (1981). More info
The War of the Copper Kings by C.B. Glasscock (1971). More info
Copper Camp: The Lusty Story of Butte, Montana, the Richest Hill on Earth by the Writers Project of Montana (1943). More info

Online:
When Toil Meant Trouble: Butte's Labor Heritage, an article by George Everett



Back to Novels of the Old West

Back to Directory of Book Reviews