Reviewer Profile:

Annis


The Life, Times and Recommendations
of an Accidental Reviewer

A New Zealand babyboomer, I've been a compulsive reader ever since I mastered the "Janet & John" primers at school. A Scottish exchange teacher who read J.R.R. Tolkien's "Hobbit" to my class when I was about eight years old is indirectly responsible for my enduring love of myth, legend and history. When he went back home before finishing the story I was devastated, and driven to sidle cautiously into the local public library in search of the book so I could find out what happened next. A sympathetic librarian not only found a copy of The Hobbit for me, but recognising an addict in the making, also led me to children's authors like Rosemary Sutcliff and Henry Treece, sealing my fate as a lover of historical fiction, and incidentally as a future librarian myself.
For nearly 30 years, I have lived in a beautiful rural area of New Zealand where my husband and I have a farm on which to practise organic and permaculture techniques. We have two adult sons. Both are keen readers, something I count as one of my greatest achievements. I love to go running in the hills, though I'm slowing down now, and in the past practised karate.
I'm an eclectic reader. As well as historical fiction I widely read crime/mystery novels, fantasy, and even the odd bit of historical romance. A childhood spent reading Biggles books and classics like H. Rider Haggard, Sir Walter Scott, Rudyard Kipling and Alexandre Dumas has given me a taste for high adventure and heroic epics, and stories with a touch of irony and black humour appeal to me; I don't take my heroics too seriously. I was fortunate to encounter Dorothy Dunnett's "Lymond" series as a teenager, and her writing also influenced my tastes. All eras of history intrigue me, though ancient and medieval periods will usually have first call on my attention. It's hard for me to pin down any particular favourite author as I appreciate any well-written work.
The advent of the internet has proven both a blessing and a curse. For an information junkie it's a wonderful resource, and much of my fiction reading these days is supplemented by online research. It also provides a great opportunity to discuss fiction and history in general with other like-minded people and share their blogs. However, it does mean that less time is available for actual reading!
I'm an accidental reviewer, seeing myself as a reader rather than a writer, and when Margaret first suggested I try a review my immediate reaction was "Eeek!". However I've found it an interesting and worthwhile challenge to try and capture something of the essence of a book I've read, and I've sometimes discovered unexpected depths in a book as I've re-assessed my interpretation of it in the process.
Here are a few of my more recent "finds", historical novels which have impressed me with both the quality of the writing and their ability to transport me to another time; interestingly, all are début novels:

The Outlander by Gil Adamson, a striking début novel from Gil (short for Gillian) Adamson (Powell's listing; author profile at Quill & Quire).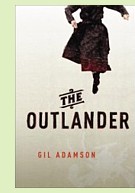 I originally noticed a review of The Outlander on the Historical Novels Society Editorial Reviews page, and when I spotted a copy at the library, I absent-mindedly picked it up. Within a few pages, I was avidly devouring this haunting tale, which explores the blurred margins between sanity and madness. The story of a mysterious widowed young woman on the run in the early years of the nineteenth century is a gripping one as we follow her desperate trek ever deeper up into the mountains of western Canada.
This is masterful, self-assured writing of great delicacy, mapping both the internal landscape of the widow's mind as well as that of the increasingly wild and magnificent country she moves through. It took Gil Adamson ten years to complete Outlander; here's hoping she writes another novel before the next ten are up. Highly recommended.

Of Merchants & Heroes by Paul Waters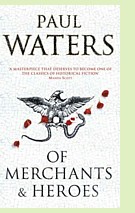 The first in a series, this début novel (published in the U.S. under the title The Republic of Vengeance) is set in the Mediterranean of the third century B.C. Republican Rome is in the closing stages of the Punic Wars and now clashes with the ambitious Philip V of Macedon, who is expanding his influence throughout the Mediterranean. The Greek city-states become the battleground for two nations on the rise. This is an adventure novel, but a very intelligent and informed one. It's also an exploration of Greek philosophical and spiritual ideals of the era and the way they begin to influence Roman thought. Actual historical figures mingle with fictitious ones, and at no stage do the characters seem as if they are thinking or acting in a way inappropriate to the ethos of the times.
Of Merchants & Heroes is a sensitively portrayed same-sex love story as well, an affair as much one of kindred spirits as physical, representing the ancient Greek ideal, a relationship between two men which encompasses mind, body and spirit. In an age in which bisexuality was perfectly acceptable, Marcus, a young Roman, finds his soul-mate in the Greek athlete Menexenos.
I'll be watching for the next book, Cast Not the Day
, set in Roman Britain and due for release in early 2009.

Conspiracies of Rome by Richard Blake (Book Depository listing)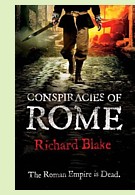 Rome in 608 A.D. is a remnant of its former glory. Most of the city is in ruins and in a state of decay. Power is shared between the Urban Prefect, representative of the Roman Emperor Phocas in Constantinople, and the flourishing Roman Christian Church. The Roman Empire has dwindled until Constantinople in the East, besieged by Persia and the rebellious exarch of Africa, and the cities of Rome and Ravenna in Italy are all that remain. The rest of Italy is under the control of the Lombards, originally a Germanic tribe.
Rome itself is the centre of vicious in-fighting and power struggles between Church and State. Into this nest of vipers wanders our hero Aelric, a less than innocent young Saxon noble of the down-at-heel variety, and his mentor, the priest Maximin, on a mission to collect books for the Roman Church in England.
Full of twists and turns and many devious characters, this is a brilliant evocation of a time and place not often found in historical fiction. Aelric is an interesting main character; he's handsome, clever and insufferably conceited, though redeemed by his great love for books and thirst for knowledge. His cynical and amoral approach to life makes him the perfect servant for the venal and power-hungry clerics of the Roman Church, but is he as clever as he thinks he is?
It's the first in a series, and I'll be looking forward to the next episode.

And this year's best new "old" find:
Durandal by Harold Lamb (Onsite review; author profile at Wikipedia)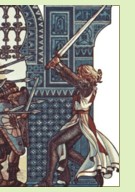 Harold Lamb was an author of both historical fiction and non-fiction, mostly written in the 1930s and 1940s, who has undeservedly fallen into obscurity. His writing is impressive, vivid and direct. I tracked down a copy of his novel Durandal, set in the medieval world of the Latin Empire, after seeing him mentioned on the Historical Fiction Forum, and have since searched out some of his non-fiction work, also eminently readable; most recently Hannibal: One Man Against Rome
.



Back to Top

Back to Directory of Book Reviews

Back to Directory of Articles