The Red Necklace
by Sally Gardner
Reviewed by Annis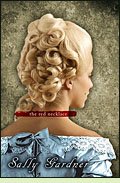 When Yann steals a red necklace from menacing Count Kallivoski he doesn't understand its significance. The "blood-red ribbon with seven crimson stones set into it" is a serial killer's signature. He leaves one around the neck of each victim. Now Yann is in his sights.
It's the winter of 1789, one of the worst in living memory. In Paris, revolution is brewing, a whisper of discontent gathering strength on the winds of change. At the Théatre du Temple, three gypsies - magician Topolain, Têtu the dwarf and fourteen-year-old Yann - are a great hit with their marvellous performing automaton. Audiences wonder how the walking, talking, wooden clown works, not realising its secret is gypsy magic. Yann is no ordinary boy.
One night a wealthy stranger hires them to perform at the Marquis de Villeduval's splendid château. Yann doesn't want to go. A ghostly voice warns him, "The devil's own is on your trail. Run like the wind!" The evening ends in tragedy. The Marquis' neglected, kind-hearted daughter Sidonie saves Yann, and from that moment their destinies are linked. When Yann returns to Paris from London three years later, a blood-soaked Revolution has overthrown the old order. It's his turn to rescue Sido. She's in terrible danger. Can he reach her in time?
The Red Necklace is the work of a gifted storyteller who weaves magic, murder and dark secrets into a vivid, captivating tale of love, loyalty and loss in a world turned upside down. Who knows when the guillotine might fall next? "Life is life!" say the gypsies. In the shadow of death, make the most of every moment. (2007; 376 pages, including an author's note about the history behind the story. Recommended for ages 13 and up.)
More about The Red Necklace at Powell's Books or Amazon.com

Other novels set during the French Revolution:
The Silver Blade by Sally Gardner (2009), a sequel to The Red Necklace. More info
Revolution by Jennifer Donnelly (2010), about a present-day girl who slips back into the past after discovering the diary of a girl who lived during the Revolution. More info
The Pale Assassin by Patricia Elliott (2010), about a fourteen-year-old girl of the French aristocracy and the assassin who targets her. More info

Nonfiction about the French Revolution:
La French Revolution by John Farman (1998), for younger children; part of the "History in a Hurry" series. More info
Chronicle of the French Revolution: 1788-1799 by Clifton Daniel (1989), lots of pictures. More info
The French Revolution: 1788-1799 by Peter McPhee (2002), written especially for college students. More info

Online:
The Victim's Ball about French parties after the end of the Revolution where relatives of the victims wore "red necklaces"



Back to YA Novels: Eighteenth Century

Back to Directory of Book Reviews