Rebels and Traitors
by Lindsey Davis
Reviewed by Margaret Donsbach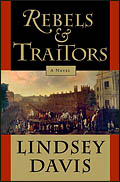 Rebels and Traitors is a big, meticulously detailed novel about the English Civil War and the Commonwealth, part fiction, part seamlessly integrated (if sometimes dry) narrative nonfiction. It opens in 1634 before the discontent with King Charles breaks into open rebellion; it closes in 1657 as discontent mounts against the Lord Protector Oliver Cromwell.
Gideon Jukes, the second son of a London grocer, is destined to become a printer and a soldier in Cromwell's army. Juliana Carlill is the ward of an elderly retired lawyer. Inadequately dowered, intelligent but not especially pretty, she is destined to wed a Royalist whose absence on the king's business requires her to cope alone, for years at a time, with danger, destitution, childbirth and childrearing. Kinchin Tew, a homeless girl whose chief concern is mere survival, represents the lowest classes.
Gideon's profession highlights the importance of printed tracts and pamphlets to the rebellion; the essential arguments of numerous printed works are summarized and quoted. His military service brings readers onto the most important battlefields of the war, culminating in the decisive battle at Naseby. Juliana's husband's activities portray the Royalist struggle to preserve the king and, later, to overturn the Commonwealth. The novel keeps readers at some emotional distance from the characters, observing them inside and out with a perceptive, often wryly humorous eye. Frequent digressions detail political negotiations, troop movements, the king's doings and other developments unknown to these characters, borrowing a modern historian's voice and vocabulary (using, for example, descriptive terms like "medieval," first coined in 1683).
While portraying both Royalists and Parliamentarians with sympathy, Rebels and Traitors clearly sides with the stirrings of democracy among supporters of the rebellion. It offers readers a monumental overview of this important period in English history. (2009; 742 pages)
More about Rebels and Traitors at Powell's Books or Amazon.com

Other novels about the English Civil War:
The Moon in the Water by Pamela Belle and sequels, about a Royalist family. More info
Wintercombe by Pamela Belle and sequels, about a Puritan family.
More info
London in Chains by Gillian Bradshaw (2009), about a young woman who becomes a printer's apprentice. More info
As Meat Loves Salt by Maria McCann (2005), about a runaway servant who fights in Cromwell's army and becomes involved with the Diggers movement. Review or More info from Powell's Books

Nonfiction about the history of printers and the printing press:
Politicians and Pamphleteers: Propaganda During the English Civil Wars and Interregnum by Jason Peacey (2004). More info
The Printing Press as an Agent of Change by Elizabeth L. Eisenstein, (1979). More info
Print, Manuscript and the Search for Order, 1450-1830 by David McKitterick (2003). More info

Online:
"The Causes of the English Civil War" at the History Learning Site



Back to Novels of the Seventeenth Century

Back to Directory of Book Reviews