The Raven's Seal

by Andrei Baltakmens

Reviewed by Margaret Donsbach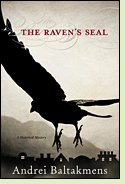 Dickensian to the hilt, if not quite as rich as a real Dickens novel, The Raven's Seal offers an indictment of eighteenth-century prisons, using them as a metaphor that gives the novel relevance to the present. The novel begins in the 1770s (near the same period as Dickens' historical novel A Tale of Two Cities) in the fictional English town of Airenchester, over which "Old Bellstrom Gaol" broods "like a black spider on a heap of spoils." The central characters are Thaddeus Grainger, a young gentleman who disdains the empty life of society balls and gambling in which his peers indulge, and Cassie Redruth, a proud slum girl of striking beauty and high moral fiber.
It's a few chapters in, after Grainger is unjustly sentenced for murder and imprisoned, when the story catches fire. Eighteenth-century prisons, "squalid, dangerous and foul," were not for the faint of heart. Every privilege, from candles and food to a cleaner cell and lighter or no chains, cost an exhorbitant fee to the gaolkeeper. Most prisoners in Bellstrom are allowed a surprising but historically authentic degree of mobility within its walls, making possible a brutal social order that echoes and infiltrates the larger order outside, with certain prisoners powerful enough to engage in criminal enterprises whose tentacles sprawl into the town.
Though The Raven's Seal takes the form of a mystery, it is really a novel about life in and around an eighteenth-century prison. Grainger's efforts, with Cassie's devoted assistance, to uncover the people and motives behind his downfall lead him gradually, over the course of years, to a deeper understanding of the interconnections between gaol, town and life itself. A fellow inmate, the "philosopher of the prison," tells him, "Your society is not the counterpart to the prison, but its perfection, where every act is seen, judged, approved, or disapproved directly, and the marvel is that outside the gaolhouse we persist in serving as our own turnkeys." (2012, 406 pages)
More about The Raven's Seal at Powell's Books
,
Amazon.com
or
The Book Depository
Interview with author Andrei Baltakmens
Other historical novels set in prisons:
The Bride of Newgate
by John Dickson Carr (1950), a mystery about a woman who, to gain an inheritance, marries a convict scheduled to be hanged an hour later. See
review
or
more info at Amazon.com
Rapscallion
by James McGee (2008), a thriller about an investigator with London's Bow Street Runners who must investigate a rumored smuggling operation aboard French ships converted into brutal jails for prisoners of war during the Napoleonic Wars; #3 in the Matthew Hawkwood series. See
review
or
more info at Powell's Books
The Relation of My Imprisonment
by Russell Banks (1983), the fictional memoir of a seventeeth-century Puritan coffin-maker arrested and thrown into prison for his faith.
More info
Nonfiction on the history of prisons:
Discipline and Punish
by Michel Foucault (1975), a study by a noted postmodern philosopher of the historical methods of punishing crime, from public executions to prisons, and the way these have reflected the changing social order.
More info
The Gaol: The Story of Newgate, London's Most Notorious Prison
by Kelly Grovier (2008).
More info
Sing-Sing: The Inside Story of a Notorious Prison
by Denis Brian (2005), the history of this New York State prison from the beginning of its construction in 1825.
More info
Online:
Life Inside Newgate Prison
at the h2g2 website.

Back to Novels of the Eighteenth Century

Back to Directory of Book Reviews