The Raven's Heart
by Lenore Hart
Reviewed by Margaret Donsbach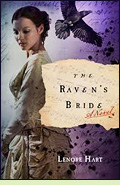 The Raven's Bride is about the young wife believed to have inspired many of Edgar Allen Poe's brilliantly dark poems, including The Raven. Although it was not unusual in nineteenth-century America for men to marry women significantly younger than themselves, Virginia Clemm was only thirteen when she wed the twenty-seven-year-old Poe. Their marriage certificate, falsely listing her age as twenty-one, underscores the significance of the gap.
Virginia died of tuberculosis in 1847 at age twenty-four, and the novel opens with her spirit visiting her dying husband. The scene then moves back in time to eight-year-old Virginia meeting the cousin she soon comes to adore. Virginia is a well-behaved child brought up strictly but affectionately by her mother and grandmother. Even after she marries, more than a third of the way through the novel, she remains very much the obedient child as both she and her mother move in with the poet, who has promised her mother not to consummate the marriage until Virginia comes of age. Quietly unhappy about the restriction, Virginia accepts her continuing subordination to both mother and husband with grace, as she does their poverty. While this may reflect the reality of the Poe marriage, it does not make for compelling drama.
The story becomes more interesting about two-thirds of the way through the novel when Virginia's musical talent and yearning for self-expression begin to conflict not only with her mother's concern for propriety but with the increasing seriousness of Virginia's illness. In a dramatic, well-written scene based on an actual incident, she coughs up streams of blood in the middle of a drawing-room performance. She begins to see spirits which gently lead her to recognize death as the entry into a world of spirit. Although many readers will find The Raven's Bride too slow-moving, patient readers interested in young people and spirituality may appreciate its insights. The novel is free of explicit sex and, though melancholy, is less grim than Poe's stories. (2011; 358 pages)
More about The Raven's Bride at Powell's Books or Amazon.com

Works of Edgar Allen Poe:
The Complete Tales and Poems by Edgar Allen Poe (1975 Vintage Books edition). More info
Poe Illustrated by Edgar Allen Poe (2007 Dover Books edition), stories and poems by Poe with over 100 illustrations by Édouard Manet, Arthur Rackham, Gustave Doré and others. More info
Poe's Lighthouse by Edgar Allen Poe and selected authors (2006), a collection that includes the last piece of writing Poe began before he died, a fragment of historical fiction set in 1796, finished by a variety of modern authors. More info

Nonfiction about Edgar Allen Poe and Viriginia Clemm:
Edgar Allen Poe: His Life and Legacy by Jeffrey Meyers (1992). More info
Edgar A. Poe: Mournful and Never-Ending Remembrance by Kenneth Silverman (1991). More info
Edgar Allen Poe: A Critical Biography by Arthur Hobson Quinn (1941). More info

Online:
Mrs. Virginia Clemm Poe, brief excerpts from remembrances of Virginia Poe by people who knew the Poes personally, at The Edgar Allen Poe Society of Baltimore website




We offer you the most impressive collection of Hollister clothes; you would expect that from an online store. Besides this we carry a superb variety of work gloves and pea coats.

Back to Novels of Nineteenth-Century America

Back to Directory of Book Reviews