Rapscallion
By James McGee
Reviewed by Annis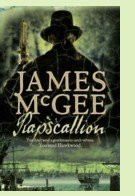 Rapscallion marks the third outing for Regency peace officer Matthew Hawkwood. It's the latest in a series of thrillers featuring the Bow Street Runners, based in London during the Napoleonic Wars.
The call "Send for Hawkwood" goes out whenever the Runners are faced with any particularly tricky task requiring an agent who is sharp-witted, quick on his feet and not afraid to dispense summary justice. Hawkwood is something of an enigma: dark, forbidding and ruthless. An ex-army sharp-shooter who makes even his superiors nervous, he has connections with London's criminal underworld which often prove useful.
French prisoners of war have been escaping from the noxious hulks, former British warships now used as floating prisons, which house them for the duration of the war. Officers sent by the Navy to make enquiries have disappeared. National security is threatened. It's time to send for Hawkwood.
In the guise of a new prisoner, he is transferred to the prison hulk "Rapacious" and finds himself in a hellish world where no normal rules of conduct apply. He discovers that arranging escapes is a profitable sideline for the Trade, the insidious, lucrative business of smuggling, and becomes enmeshed in the dangerous fraternity of smugglers, men from all walks of life who defy the authorities to transport both goods and people to and from France.
A ripping yarn, fast-paced, violent and exciting, Rapscallion brings to light the story of Napoleon's "forgotten legion," over 100,000 captured French soldiers who were left to rot in harrowing conditions. One of them, French naval artist Louis Garneray, was given this bleak advice: "Remember this well; on board the hulks a prudent man never lets himself be carried away by generosity, nor by any other feeling whatsoever. You must get used to shutting your heart, your eyes and your ears to all pity." (2008, 400 pages)
More about Rapscallion from Powell's Books

Other novels in James McGee's Matthew Hawkwood series:
#1: Ratcatcher (2006)
#2: Resurrectionist (2007)

Other novels featuring the Bow Street Runners:
Blind Justice by Bruce Alexander (1994), the first in a mystery series based on Lord John Fielding, the eighteenth century London magistrate who founded the Bow Street Runners; for other novels in the series, see the 18th Century page
The Thief Taker by T.F. Banks (2001), a mystery about a Bow Street Runner investigating the death of a respectable gentleman who had been seen at very unrespectable taverns; #1 in the Memoirs of a Bow Street Runner series; for other novels in the series, see the 19th Century Europe page
The Last Days of Newgate by Andrew Pepper (2006), a violent, hard-boiled thriller about a Bow Street Runner investigating a series of grisly murders in 1829 London

Nonfiction about British prison hulks, 18th century smugglers and the Bow Street Runners:
The Floating Prison: the Extraordinary Account of Nine Years' Captivity on the British Prison Hulks during the Napoleonic Wars by Louis Garneray
The Fine Art of Smuggling: King's Cutter vs Smugglers, 1700-1855 by E. Keeble Chatterton
The English Police: a Political and Social History by Clive Emsley

Online:
The article by Gavin Daly which inspired McGee to write Rapscallion: Napoleon and the "City of Smugglers," 1810-1814
Louis Garneray's painting of the hulks where he was imprisoned, Prison Hulks in Portsmouth Harbour