Quarterdeck
by Julian Stockwin

Reviewed by David Maclaine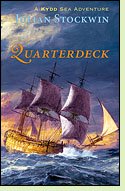 In Quarterdeck, fifth in an engaging series on the adventures of a former tradesman pressed into the royal navy, Thomas Paine Kidd completes another huge step in his ascent from the rank of common seaman. The novel begins with a challenging exam to secure Kydd's place as an officer in the Royal Navy, but the uncertainty over that enormous step is nothing compared to his rising doubt whether he can survive the pressure of life among gentlemen colleagues whose command of etiquette he will never master. Naturally, it becomes the task of his friend Renzi, a high-born idealist serving a sort of penance in the navy, to try to teach Kydd how to avoid career-crippling social gaffes. But when the ship on which Kydd serves as signal officer takes station in Nova Scotia, an alternative arises. With England and France at war, the fledgling United States is striving to remain neutral. Embroiled in the complex relations between England and America, Kydd soon finds himself serving as an advisor to the newly formed American navy, and tempted by the prospect of shifting his allegiance. His fate will hinge on the presence in Nova Scotia of a royal prince and his mistress, and on his own naïve good nature.
As always in this series, action and adventure fill the pages. There is a bloody fight in open boats, a difficult rendezvous in the face of a dreadful storm, and some sly sabotage that ends a long duel between warships. Kydd must play, variously, the role of diplomat, secret agent - and even detective, when he tries to discover the fate of a long-lost uncle. Although Quarterdeck offers fewer pitched sea battles than other books in the series, the hero's many intriguing dilemmas and Stockton's splendid descriptions of the quaint locale held my attention from first page to last. (2005, 320 pages)
More about Quarterdeck at Powell's Books
or
Amazon.com
Other novels set in Nova Scotia:
Cross of St. George
by Alexander Kent (1996), about a British naval officer in the waters off Nova Scotia as American privateers continue to harass British ships after the War of 1812; #24 in the Richard Bolitho series.
More info
The Birth House
by Ami McKay (2006), about a young midwife in Nova Scotia during the First World War.
More info
What is Left the Daughter
by Howard Norman (2010), ), about a seventeen-year-old who moves in with his aunt and uncle and falls in love with his cousin during World War II.
More info
Nonfiction about the development of the U.S. Navy:
Six Frigates: The Epic History of the Founding of the U.S. Navy
by Ian W. Toll (2006).
More info
The Congress Founds the Navy, 1787–1798
by Marshall Smelser (1959).
More info
If By Sea: The Forging of the American Navy, From the American Revolution to the War of 1812
by George C. Daughan (2008).
More info
Online:
Constitution: America's Ship of State, 1812-1815
, at the U.S. Navy's website
Back to Novels of the Napoleonic Era
Back to Directory of Book Reviews