Quakertown
by Lee Martin
Reviewed by Margaret Donsbach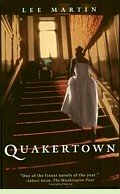 In 1921, a thriving black community called Quakertown formed part of Denton, Texas. Based on actual events, Quakertown is the story of a gifted black gardener co-opted into a scheme to relocate his community away from the center of town to make way for a park, and of his light-skinned daughter's love for two men, one the crippled son of a prominent white banker, the other a proud black World War I veteran.
The characters, black and white, are complex, flawed individuals portrayed with understanding and sympathy. Mr. Little Washington Jones is justifiably proud of his garden with its lush lawn, catalpa trees, tea roses, and the white lilac bush "he had found ... growing wild along Pecan Creek, showy and magnificent among the scrub of mesquite and bramble." His love for his garden is also the weakness that tempts him to betray his community.
His daughter Camellia's compassionate heart tempts her into loving a white boy, even after she grows old enough to know the danger of crossing the color line. "If she could only touch him the right way, rub her hand over his lame leg, she might heal him."
Kizer's courage awes Camellia when as a boy he allows the doctors to "bust up" his bones in an effort to lengthen his too-short leg. It becomes his weakness when, as a young man, he dares to meet her in the college auditorium's darkened balcony. "She felt the tip of his finger touch hers, such a light, quick touch, she could almost believe it hadn't happened."
Ike's more assertive courage, which makes Camellia tremble with admiration, tempts him to go too far when he is refused access to a "Whites Only" dressing room. "He laid the trousers out on the black mahogany.... 'I'm a war veteran,' he said."
Their efforts to live as full human beings draw them ever closer to both calamity and salvation in this unpretentious, graceful and inspiring novel. (2001, 289 pages)
Quakertown is on my "Best Historical Novels I Read in 2009" list.
More about Quakertown at Powell's Books or Amazon.com

Other novels about race relations in America between the wars:
The Given Day by Dennis Lehane (2008), about an Irish policeman and a black man hunted by the mob in post-World War I Boston. More info
Scottsboro by Ellen Feldman (2008), about nine black youths arrested on a train in Alabama in 1931. More info

Nonfiction about Denton, Texas, and black communities in Texas:
Quakertown, 1870-1922: History of a Black Community in Denton by Letitia deBurgos (1991). Available through the Denton County Historical Museum.
Calvin Littlejohn: Portrait of a Community in Black and White by Bob Ray Sanders (2009), about a black photographer who documented the black community of Ft. Worth, Texas, in the 1930s. More info
And Grace Will Lead Me Home: African American Freedmen Communities of Austin, Texas, 1865 to 1928 by Michelle M. Mears (2009), about the urban and rural settlements founded by freedmen in and around Austin, Texas, after the Civil War. More info

Online:
Quakertown History on the Denton County, Texas, website



Back to 20th Century: America Between the Wars

Back to Directory of Book Reviews