The Proud Villeins
by Valerie Anand
Reviewed by Susan Gillmor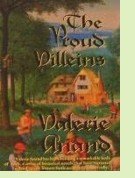 The Proud Villeins opens in the year 1036 and follows the fortunes of one family of serfs (or villeins) into the first decades of the 13th century. The family sinks to near-slavery when Ivon de Clairpont, a proud Norman knight, is taken prisoner and condemned to work a plot of land in northern Anglo-Saxon England three decades before Duke William's famous conquest. In an ironic twist Ivon is killed by a band of his Norman peers as William's "Harrying of the North" punishes the land and its inhabitants for acts of rebellion against Norman rule. Ivon's descendants despise the Norman ruling class, while they preserve an aging medallion embossed with the de Clairpont crest which suggests the noble roots they don't remember.
As the first installment of Anand's generational saga, Bridges Over Time, The Proud Villeins is a superb study in historical detailing for the first two centuries of England under Norman rule. Not only do we witness well-known historical events, like the compilation of the Domesday Book and the Civil War of the 12th century, through the eyes of Ivon and his descendants; we also follow the unfolding of small and fascinating cultural details, like the evolution of family naming traditions. Ivon's grandson is called Ivon Oddeyes due to an unusual physical characteristic. Decades later, his family becomes known by a new surname, Whitmead. The details are a constant surprise and delight to lovers of historical minutiae.
Anand's choice to depict a family of Norman nobility brought low in a sudden reversal of fortune offers us an intimate look at these inevitable whims of time as well as the burdens, travails, and struggles of the disenfranchised classes of medieval society. This is a page-turner of epic proportions, evoking the works of Rutherfurd and Michener, but surpassing them in its offering of detail and personal drama from one generation to the next. A must-read for lovers of the medieval era. (1992, 310 pages)
More about The Proud Villeins at Amazon.com

See the British Isles section of the Medieval page for more novels in the Bridges Over Time series.

Other novels about the lives of peasants in medieval England:
Down the Common: A Year in the Life of a Medieval Woman by Ann Baer. More info from Powell's Books
World Without End by Ken Follett. Review

Nonfiction about the lives of peasants in medieval England:
Life on the English Manor: A Study of Peasant Conditions 1150-1400 by H.S. Bennett. More info
Ties That Bound: Peasant Families in Medieval England by Barbara A. Hanawalt. More info



Back to Novels of Medieval Europe

Back to Directory of Book Reviews