Prophecy
by S.J. Parris
Reviewed by Margaret Donsbach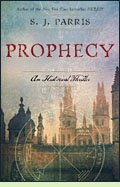 Renaissance scholar Giordano Bruno, the sleuth in Prophecy, is still spying for Queen Elizabeth's adviser Francis Walsingham in the fall of 1583, six months after the grisly murders in Heresy. Europe is abuzz with dread and excitement over the impending astrological conjunction of Jupiter and Saturn.
Indebted to France because its Catholic king sheltered him after he fled his native Italy, Bruno lives in Protestant London now. As a trusted guest of the French ambassador, he regularly sits in on top-secret meetings of a cabal plotting to free Mary Queen of Scots and set her on the English throne. The conspirators include Scots, the thuggish Spanish ambassador, disaffected English Catholics, and France's influential de Guise family. The goal is to restore Catholicism to England, but the conspirators' motivations are more political and personal than pious. The French ambassador's fiendishly seductive wife is an eager co-conspirator.
Bruno's own personal agenda is still to find the lost fifteenth book of Hermes Trismegistus. Its contents are so inflammatory, the distinguished translator of the other volumes refused to translate this one, "believed to set forth the mystery of man's divinity" and "the secret of becoming equal to God." In his search, Bruno has made friends with someone dangerous to know: the queen's astrologer John Dee, whose attempts to conjure spirits could draw heresy accusations from Protestants and Catholics both.
The characters in Prophecy are richly drawn, especially the intelligent, politically moderate French ambassador, whose kindness to Bruno, a spy in his house, pains Bruno's conscience. Woven into the vividly authentic historical setting is a flamboyant fictional murder mystery. Someone has killed one of Queen Elizabeth's maids of honor and carved an astrological symbol into her body. Who? Is it a practice run for an assassination attempt on the queen? Can Bruno survive his efforts to find out? The solution requires an extended explanation by the culprit; otherwise, the story is both sophisticated and gripping. (2011; 375 pages)
More about Prophecy at Powell's Books or Amazon.com

Other mysteries and thrillers revolving around Queen Elizabeth's court:
Firedrake's Eye by Patricia Finney (1992), a literary thriller about the mad son of a Catholic family who discovers his brother is plotting to assassinate Queen Elizabeth. More info
To Shield the Queen by Fiona Buckley, (1997; also titled The Robsart Mystery), about a noblewoman who fails to prevent the death of Amy Dudley, wife of Queen Elizabeth's favorite, after she is sent to watch over Amy and prevent a scandal; #1 in the Ursula Blanchard mystery series. More info
Sacred Treason by James Forrester (2010), about a Catholic herald who takes charge of a dangerous book and shortly afterward is arrested as Queen Elizabeth's councilors investigate plots against her life. More info

Nonfiction about Sir Francis Walsingham and Dr. John Dee:
The Queen's Agent: Sir Francis Walsingham and the Rise of Espionage in Elizabethan England by John Cooper (2013). More info
Her Majesty's Spymaster: Elizabeth I, Sir Francis Walsingham, and the Birth of Modern Espionage by Stephen Budiansky (2005). More info
The Queen's Conjuror: The Science and Magic of Dr. John Dee, Advisor to Queen Elizabeth I by Benjamin Woolley (2001). More info

Online:
Sir Francis Walsingham at the PBS "In Search of Shakespeare" website
John Dee at Wikipeda



Back to Novels of the Renaissance

Back to Directory of Book Reviews