The Privateer's Revenge

by Julian Stockwin

Reviewed by David Maclaine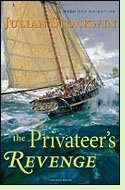 The Privateer's Revenge is the ninth of Julian Stockwin's series of nautical novels about the rise through the ranks of his hero, Thomas Paine Kydd. As I have read through the series it has only slowly dawned upon me the extent to which Stockwin distinguishes himself from his great predecessors in the field - Forester and O'Brian - by the sheer variety of incident in each novel. This offering, for example, pivots on a shocking piece of treachery (Treachery was the original British title of the novel) that seems to bring Lieutenant Kydd's career to a sudden halt. Savvy readers know enough of how fiction works to be confident he will somehow win reinstatement, but it's less likely they will guess how many varied adventures await along the way.
As the novel begins its hero is deeply wounded by grief but finds the strength to take part in some daring raids ashore as well as an inspired rescue of his admiral's stranded ship, while gradually coming to terms with a simmering threat of mutiny. Then comes Kydd's shocking fall, and before long our hero is struggling to survive ashore. Stumbling into a backstage job with a theatrical company gives him a temporary respite. Meanwhile his friend Renzi must also seek employment, and his venture embroils him in an incredible plot to kidnap Napoleon Bonaparte. The path which allows Kydd to repair his fortune is a bit more difficult to guess than the outcome of that conspiracy, but it involves a fresh succession of challenges on land and sea. The Privateer's Revenge repeatedly offers suspenseful action where success and failure balance on a knife's edge. Along the way author Stockwin offers a vivid picture of Guernsey and the Channel Islands and pays tribute to a real-life naval hero, Admiral Sir James Saumarez. The novel is a multi-course feast, not to be missed by fans of the genre. (2008, 320 pages)
More about The Privateer's Revenge at Powell's Books
or
Amazon.com
Other novels about naval officers in the Napoleonic era:
Passage To Mutiny
by Alexander Kent (1976), about a British naval officer in 1789, on the eve of the French Revolution, as he sails to the Great South Sea to protect his country's shipping lanes; #9 in the Richard Bolitho series.
More info
King's Captain
by Dewey Lambdin (2000), about a pleasure-loving officer in the British navy as mutiny infects the fleet and an old enemy threatens his life; #9 in the Alan Lewrie series.
More info
Man of War
by Allan Mallinson (2007), about a British officer whose return to active duty is postponed by a military enquiry; #9 in the Matthew Hervey series.
More info
Nonfiction about privateers:
Pirate Hunting: The Fight Against Pirates, Privateers and Sea Raiders from Antiquity to the Present
by Benerson Little (2010).
More info
Patriot Pirates: The Privateer War for Freedom and Fortune in the American Revolution
by Robert H. Patton (2008).
More info
History of the Liverpool Privateers and Letters of Marque: With an Account of the Liverpool Slave Trade
by Gomer Williams (1897).
More info
Online:
James Saumarez, 1st Baron de Saumarez
at Wikipedia
Back to Novels of the Napoleonic Era
Back to Directory of Book Reviews