Private Life
by Jane Smiley
Reviewed by Margaret Donsbach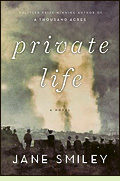 Private Life is one of those exceptional historical novels whose relevance to our own time is especially powerful because its portrayal of the past is so seamlessly authentic. Margaret lives in the shadow of three wars. In her childhood, the Civil War's divisions remain alive in her rural Missouri community. During the First World War, her eccentric husband is an astronomer at the Naval Observatory in Vallejo, California. When the United States enters the Second World War, she discovers to her horror that choices she has made in her private life may have national consequences.
Though Margaret thinks of herself as ordinary, in rural Missouri she does not fit easily or gracefully into a woman's role. She is an avid reader, alight with curiosity, impatient with constricting conventions. Her first meeting with her future husband caps a glorious solitary outing on a borrowed bicycle. "To be balanced so precariously, and to feel that balance become steadier ... was exhilarating."
Andrew's undeniable brilliance is marred by his obsession with pet theories he furiously defends long after a more objective mind would recognize their flaws. Margaret begins to wonder whether his bitterness might be "in some sense an argument against education - wouldn't he have been happier with smaller thoughts? As an investor, he was a whiz. As an observer of nature ... he was exact and careful.... But day after day, year after year, he thought only of the universe, which he could not see." She becomes gifted at deflecting his fits of rage at scientists he imagines are conspiring to suppress his theories.
She will have occasion to recall her mother's advice: "You've always been a good girl, and now you've had a piece of luck, marrying at twenty-seven, but a wife only has to do as she's told for the first year." When Margaret realizes the profound importance of this advice, it is almost too late to put it into effect. (2010; 318 pages)
More about Private Life at Powell's Books or Amazon.com

Other historical fiction about scientists and their families:
Kepler by John Banville (1981), about the unhappily married seventeenth century astronomer Johannes Kepler. More info
Ship Fever by Andrea Barrett (1996), a collection of short stories about scientists and their families. Review or More info at Powell's Books
Remarkable Creatures by Tracy Chevalier (2009), about the working class woman who discovered important dinosaur fossils on the English coast. Review or More info at Powell's Books

Nonfiction about the history of astronomy and Vallejo, California:
American Astronomy: Community, Careers and Power, 1859-1940 by John Lankford (1997). More info
Images of America: Vallejo by James E. Kern (2004), historic photographs of Vallejo, California. More info
Mare Island Centennial Cook Book: Favorite Recipes of the Families of the United States Naval Base Mare Island by the Navy Relief Society Women Volunteers (1954), a recipe collection from women who might have been Margaret's friends and neighbors on the Naval base at Vallejo. More info

Online:
An article about early twentieth-century astronomers who worked in the Naval Observatory at Mare Island, at the website of the U.S. Naval Observatory's Astronomy Department



Back to 20th Century Prewar America

Back to Directory of Book Reviews