Pride and Prejudice and Zombies
by Jane Austen and Seth Grahame-Smith
Reviewed by Margaret Donsbach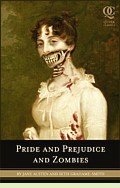 The title is laugh-out-loud funny: Pride and Prejudice and ... what!!? But is the book funny? Yes, it is.
Seth Grahame-Smith has rudely (yet affectionately) taken Jane Austen's masterpiece, Pride and Prejudice, and made alterations throughout to shift the setting from a sylvan country village in which a woman getting her skirts muddy on a walk is a bit shocking to an England overrun by a plague of the voracious undead. Mr. Bennett (with past assistance from a Chinese martial arts master) has organized Elizabeth and her sisters into a cadre of expert zombie fighters. The humor arises not only from the startling juxtaposition of Austen's decorous Regency setting with zombie mayhem, but also from a certain weird harmony between the original text and the additions.
Overhearing Mr. Darcy speak slightingly of her at a ball, Elizabeth draws "the dagger concealed beneath her dress. She meant to follow the proud Mr. Darcy outside and open his throat." Key moments like this are enhanced by illustrations reminiscent of those in old Nancy Drew books (if Nancy Drew had fought zombies).
Does the mayhem consistently live up to this punchy start as the novel progresses? That would be too much to expect in a novel of this length, but a heightened hilarity does pop up even in the later chapters. When it doesn't, Jane Austen's masterful plotting keeps the story interesting. Since her nineteenth century prose has not been tampered with, other than to add the zombie subplot, readers who find it antique and ponderous will probably find Pride and Prejudice and Zombies similarly hard going. Those who relish the sharp wit just under the surface of Austen's seemingly languid prose will likely have the most fun with this reckless adaptation.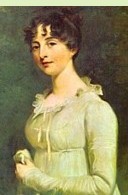 A "Reader's Discussion Guide" features such thoughtful questions as "Vomit plays an important
role in Pride and Prejudice and Zombies.... Do the authors mean for this regurgitation to symbolize
something greater, or is it a cheap device to get laughs?" (2009, 319 pages)

More about Pride and Prejudice and Zombies at Powell's Books or Amazon.com
Marcia Fox portrait
by 19th c. artist
William Beechey
Some classic novels by Jane Austen (in unaltered form):
Pride and Prejudice (1813). More info
Sense and Sensibility (1811). More info. (Updated as Sense and Sensibility and Sea Monsters: More info)
Emma (1816). More info (What monsters will this one acquire? Werewolves? Pod people?)

Other parody novels:
Bored of the Rings by Henry N. Beard and Douglas C. Kenney (1969), a parody of J.R.R. Tolkien's Lord of the Rings. More info
Barry Trotter and the Shameless Parody by Michael Gerber (2002; titled Barry Trotter and the Unauthorized Parody in the U.S.) More info
The Da Vinci Cod by Adam Roberts writing as Don Brine (2005). More info

Online:
Book trailer at U-Tube for Sense and Sensibility and Sea Monsters



Back to Historical Novels: 19th Century Europe

Back to Directory of Book Reviews