Prayers for Sale
by Sandra Dallas
Reviewed by Margaret Donsbach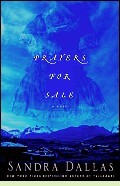 Prayers for Sale is about two women who meet in a hardscrabble Colorado mining town during the Depression year 1936.
Hennie Comfort, eighty-six, does not look forward to moving out of the mountains to her daughter's house, but realizes her daughter's worries are not unrealistic. Winters in Middle Swan are harsh. If Hennie trips in the snow outside her door and injures herself, she might not be found until spring.
Nit Spindle is a young married woman in her teens, newly arrived in town, grieving the loss of an infant, and unused to the stand-offish ways of mountain women. The two meet when Nit sees the weathered sign in front of Hennie's house, "Prayers for Sale," and asks to buy a prayer. Well, Hennie's prayers aren't actually for sale; she gives them away for free in a life primarily dedicated to helping others. Her sharp eyes notice the troubles people don't talk about, and she does her best to provide a discreet helping hand. There's a story behind the sign, though, as there is behind most everything in Hennie's life. As Hennie tells Nit the stories of her life and the women share their pleasure in quilting, a friendship grows between them.
Hennie's life has not been easy, but time and faith in God have given her an easier, more open-minded perspective on it than many people might develop. Even so, there remains one thing about which Hennie is implacable. "I am not well acquainted with the church in Middle Swan anymore," she tells Nit. "I have not stepped foot inside for some time."
Perceptive enough not to pursue the question, Nit asks instead if God answers Hennie's prayers. "The Lord takes His time," Hennie says, "more than He ought to if you ask me, but He answers most of them." Prayers for Sale is about the unhurried, comforting way in which Hennie's prayers are answered. (2009, 305 pages)
More about Prayers for Sale at Powell's Books

Other novels featuring an elderly character's reminiscences:
The Madonnas of Leningrad by Debra Dean (2006), about a woman suffering from Alzheimer's whose last memories are of the art masterpieces she helped protect during the World War II siege of Leningrad. See Review or listing at Powell's Books
Oldest Living Confederate Widow Tells All by Allan Gurganus (1989), about a woman who married a Confederate veteran when she was in her early teens. More info
Little Big Man by Thomas Berger (1964), about a white man raised among Indians from the time he was a boy. More info

Nonfiction about Colorado mining towns:
The Trail of Gold and Silver: Mining in Colorado, 1859-2009 by Duane A. Smith (2009). More info
San Juan Bonanza: Western Colorado's Mining Legacy by Duane A. Smith (2006). More info
Timberline Tailings: Tales of Colorado's Ghost Towns and Mining Camps by Muriel Sibelle Wolle (1977). More info

Online:

At the Movies:
The Unsinkable Molly Brown, the 1964 musical starring Debbie Reynolds as a poor but spirited orphan who survived the sinking of the Titanic and went on to make a fortune by discovering gold in Colorado. More info
Back to 20th Century: America Between the Wars

Back to Directory of Book Reviews