Postscript from Pemberley
by Rebecca Ann Collins
Reviewed by Margaret Donsbach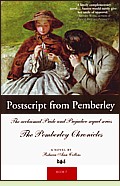 Number seven in The Pemberley Chronicles series, Postscript from Pemberley follows the further adventures of the children and grandchildren of Elizabeth and Fitzwilliam Darcy, as imagined by Rebecca Ann Collins.
In this sequel to Jane Austen's Pride and Prejudice, a number of single young people are in want of wedlock. Son Julian Darcy's marriage has ended unhappily, while grandson Darcy Gardiner is discovering the charms of women. Jessica Courtney, the vicar's daughter, has accepted a position managing Pemberley's parish school. As the story continues, she consults with Mr. Darcy on the advisability of hiring a new school teacher "of exemplary character and experience." The following page introduces the excellent Kathryn O'Hare, whose interest in Darwin's theories introduces a flavor of the larger world to Pemberley.
While Austen's vocabulary and syntax are fairly faithfully reproduced, this novel is otherwise quite different in style from Pride and Prejudice. Austen's characters are replete with amusing flaws, while in Postscript from Pemberley, Kathryn is not the only paragon of virtue. Plot complications rarely trouble the serenity of the characters' lives within the flow of the story, though tribulations of the past are recounted. The few villains whose motivations and activities are less than admirable are, for the most part, kept offstage, the reader being apprised of their doings through exchanges of letters or in reports from characters of finer moral fiber who have temporarily departed from Pemberley and the novel's pages to prevent difficulties from arising. It's refreshing when, in the last few chapters, the ever-appalling Lydia Wickham makes a personal appearance and Elizabeth Darcy devises a clever, if naughty, scheme to prevent her sister from clouding the impending marriage celebrations.
Readers who enjoyed installments one through six of this series will undoubtedly want to read Postscript from Pemberley to keep pace with the Darcy descendants' sedate and kindly progress. (2009; 306 pages, including a list of characters)
More about Postscript from Pemberley at Powell's Books or Amazon.com

Jane Austen's Pride and Prejudice and other sequels:
Pride and Prejudice by Jane Austen (1813). Plot summary and other info at Wikipedia; more info at Powell's Books
The Pemberley Chronicles by Rebecca Ann Collins (2008), #1 in Collins's Pemberley Chronicles series, about the Darcys' efforts during the first 25 years of their marriage to balance tradition with progressive reforms amid the Industrial Revolution. More info
The Independence of Miss Mary Bennet by Colleen McCullough (2008), an entertaining sequel that makes no attempt to reproduce Austen's language or style. More info

Nonfiction about the manners and mores of Jane Austen's time:
Jane Austen: The World of Her Novels by Deirdre Le Faye (2002).
More info
Jane Austen's Guide to Good Manners: Compliments, Charades and Horrible Blunders by Josephine Ross (2006). More info
The Jane Austen Handbook: A Sensible Yet Elegant Guide to Her World by Margaret C. Sullivan (2007). More info

Online:
www.Chatsworth.org, the website of Chatsworth, the estate that was the inspiration for Pemberley, now owned by the Duke and Duchess of Devonshire; parts of the house are open to the public.



Back to Historical Novels: Nineteenth Century Europe

Back to Directory of Book Reviews