Poseidon's Spear

by Christian Cameron

Reviewed by David Maclaine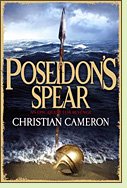 Poseidon's Spear is the third installment in Christian Cameron's Long War series, which traces the adventures of his hero, Arimnestos of Plataea, during the protracted struggle between the Greeks and the Persian Empire. This novel fits into a long pause in the long war, the decade between the Persian defeat at Marathon, so grippingly described in the previous novel, and the invasion by Xerxes. In it Cameron takes his hero through a series of adventures in the Western Mediterranean and beyond the Pillars of Hercules.
Arimnestos begins this novel in suicidal despair at the death of his wife, but a second stint of slavery, this time at the hands of a sadistic Carthaginian, rekindles his will to live. Free again after surviving horrific ordeals, he lusts for revenge, which leads him to become part of a brotherhood of freed slaves from all corners of the world. (Be alert for a sly joke when the man from a rustic town on the Tiber reveals his full name). They embark on an ambitious plan to reach the isle of Alba, the principal source of tin, a scarce commodity crucial to a culture whose most important metal is still bronze. But hostile Carthaginians control the route west, and the tin trade itself is in the hands of Celts who fully understand the benefits of monopoly. As a result, the trading mission involves more than a little piracy and assorted warfare, with the odds of reaching home again seeming long indeed.
The great accomplishment of Poseidon's Spear is its fascinating look at the peoples who lived just beyond the edge of the ancient Greek world, from the nearby Illyrians to some very distant Celts. Most telling for what is yet to come may be its long looks at Massilia and Syracuse, western Greek cities threatened by the rising power of Carthage, a city with which Arimnestos has unfinished business. (2012, 432 pages)
More about Poseidon's Spear at Powell's Books
,
Amazon.com
or
The Book Depository
Other fiction about Greek far voyagers:
The Golden Wind
by L. Sprague de Camp (1969), about a second century B.C. Greek navigator who attempts a sea voyage from Egypt to India by sailing around the coast of Africa.
More info
The Golden Fleece
by Robert Graves (1944; also titled Hercules, My Shipmate), a retelling of the legend of Jason and the Argonauts. See
review
or
more info at Amazon.com
The Odyssey
by Homer (circa 8th century B.C.), about the wanderings of Odysseus after the Trojan War.
More info
Nonfiction about ancient Greek travel and travelers:
Travelling Heroes
by Robin Lane Fox (2008).
More info
The Ancient Mariners
by Lionel Casson (1991).
More info
The Greeks Overseas: The Early Colonies and Trade
by John Boardman (1980).
More info
Online:
The Pillars of Hercules
at Wikipedia
Back to Novels of Ancient History
Back to Directory of Book Reviews