Poison
by Sara Poole
Reviewed by Margaret Donsbach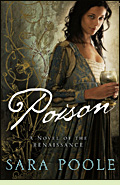 The enticing premise of Poison is that in the fateful year 1492, Cardinal Rodrigo Borgia hired a young woman as his poisoner. That's only the jumping-off point in a novel full of twists and turns, in which the historical events can be as astonishing as the fictional. And though Poison, brimful of peril, adventure and wry humor, ever ready to stretch a point in the plot's interest, is not a literary novel, an underlying seriousness of purpose offers food for thought.
Not yet twenty but sophisticated beyond her years, Francesca Giordano has grown up in Borgia's household where her late father served as poisoner. Grieving and determined to avenge his murder, she risks all on a bold, dangerous and morally questionable gambit to persuade Borgia to hire her in her father's place. She soon discovers that avenging her father may be among her least important tasks. The ironically named Pope Innocent VIII is ailing, and Borgia wants to succeed him. To do so, he must survive. Plenty of other men want to be pope, and ruthlessness is the watchword of the day.
Borgia, father of the pre-adolescent minx Lucrezia and the sensual, amoral Cesare, is by no means a cardboard villain. As practical as he is ambitious, he is a protector of Rome's Jews who, it soon appears, will have a great deal to worry about if he does not become pope very soon. While Francesca initially shares the typical Christian distaste for Jews, they win her compassion and respect when she and her inconvenient conscience are thrust unexpectedly into their community.
Theological reflections mingle with tips on the poisoner's art: "Poisons added to wine ... tend to leave a certain murkiness immediately evident to the experienced eye." The descriptions of Rome have a gothic flair: "Dark, damp, musty, filled with air so thick that I struggled to breathe, the garret seemed to contain the combined effluvia of a thousand years of human sweat, toil, prayers and suffering." (2010; 392 pages, including an Author's Note discussing the history and sources behind the novel)
More about Poison at Powell's Books or Amazon.com
Interview with author Sara Poole

Other novels featuring Rodrigo Borgia as a character:
The Scarlet Contessa by Jeanne Kalogridis (2010), about Caterina Sforza, who attracts the enmity of the Borgias. See Review or More info at Powell's Books
City of God by Cecelia Holland (1979), about the secretary to the Florence's embassy to the Borgias in Rome during the early sixteenth century. More info
Lucrezia Borgia by Maria Bellonci (1953), a sympathetic novel about Rodrigo Borgia's daughter. More info

Nonfiction about Rodrigo Borgia:
The Borgias and their Enemies, 1431-1519 by Christopher Hibbert (2008). More info
The Borgias by Marion Johnson (1984).More info
The Renaissance Popes by Gerard Noel (2006). More info

Online:
Pope Alexander VI (Rodrigo Borgia) at Wikipedia
Poisons in the Renaissance, a student project at The University of Edinburgh



Back to Novels of the Renaissance

Back to Directory of Book Reviews