The Player's Boy
by Bryher
Reviewed by Margaret Donsbach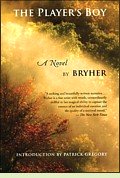 The Player's Boy opens in 1605, two years after the death of Queen Elizabeth I, and is saturated with nostalgia for her reign. At first, though, young James Sands, an apprentice actor, is grieving for someone nearer, the master who taught him what he knows of acting. "I stood, trying to smile, to hold my face that he might not notice how shocked I was; when we had parted so short a while before, he had been radiantly alive.... I thought of the unearthly beauty of his last jigge, when even the vainest gallant had not moved his chair, and for five full minutes jealousy and the newest favourite had been forgotten, because we had been rapt above hunger and misery and common danger into the sphere of fire, where Awsten, their messenger, had danced with the spirits in pure, unthreatened joy."
Sands does not entirely descend into purgatory. In the spring of 1608, while his company is working in the countryside, he stumbles across a playwright, a teacher more skilled and patient even than his beloved Master Awsten. For once, he is given a role in which he yearns to shine, though it is the most difficult of his life. Trying to work out how to help him, Mr. Beaumont comments, "the part should speak itself, and thou art strangling it." Sands replies, "It is because it is so beautiful..."
By 1618, disillusion has set in. "Rubbish heaps soiled the meadows where we used to set out maypoles, and now that the ditches were no longer cleaned, some of the ground was turning back into marsh." Emblematic of the decline is the impending execution of Sir Walter Raleigh, who has offended Spain - King James wishes, at all costs, to mollify England's old enemy.
Bryher wrote The Player's Boy in the years following World War II, and it reflects her feelings about England's pre-war appeasement of Hitler. It's a gloomy, but achingly beautiful novel. (1953; new Paris Press edition 2006, 208 pages)
More about The Player's Boy from Powell's Books or Amazon.com

Other novels by Bryher (Annie Winifred Ellerman):
The Fourteenth of October (1952), about a Saxon boy in his teens who witnesses the Battle of Hastings. See Review or More info at Amazon.com
Roman Wall (1954), set during the Roman period in what is now Switzerland. More info
Ruan (1960), about a boy in sixth century Cornwall who runs away to become a sailor. See Review or More info at Amazon.com

Bryher's memoir of the WWII years:
The Days of Mars: A Memoir, 1940-1946 (1971). More info

Nonfiction about the English theater during the Renaissance:
Shakespeare Without Women: Representing Gender and Race on the Renaissance Stage by Dympna Callaghan (2000). More info
The Routledge Anthology of Renaissance Drama by Simon Barker and Hilary Hinds (2003). More info
The English Renaissance Stage: Geometry, Poetics and the Practical Spatial Arts, 1580-1630 by Henry S. Turner (2006). More info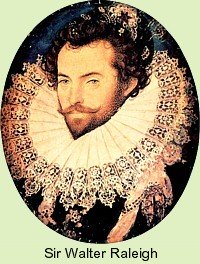 At the Movies:
Shakespeare in Love
, the 1999 film starring Gwyneth Paltrow and Joseph Fiennes, about a young Will Shakespeare stricken with writer's block and a beautiful young woman who longs to escape from her impending marriage.

Online:
Wikipedia entry on Sir Walter Raleigh




Back to Novels of the Renaissance

Back to Directory of Book Reviews