The Plague of Doves
by Louise Erdrich
Reviewed by Margaret Donsbach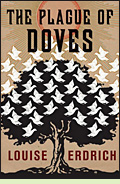 The Plague of Doves takes place in Pluto, a fictional town adjoining an Ojibwe reservation in North Dakota. It opens sometime in the 1960s, exploring backward into the nineteenth century and forward by a decade or so, revolving around the 1911 murder of a white farm family. Four Indians happened by after the murder and rescued the only survivor, an infant, thereby bringing a misplaced vigilante retribution down on themselves. Two generations later, the lynching continues to haunt the town's residents, many of mixed descent.
Full of striking scenes, the novel meanders backwards and forwards in time, approaching its story by episodic indirection until its various parts come together at the end. Evelina Harp is the granddaughter of a man with intimate knowledge of the lynching. Her "Mooshum" tells her stories of the past. Some, like the one about his maimed ear, vary wildly from one telling to the next. Others, like the story of the lynching, roll out intensely and all too credibly in the intervals when Evelina's mother isn't paying attention, but leave out crucial details. Mooshum's brother Shamengwa plays a violin with a mystical past and a central role in the town's unfolding story.
The wild sweetness of love mingles with the pain of death and injustice. Near the end of the novel, a character comes across a hive of bees who have left his demolished house: "They were busy in the graveyard right now, filling the skulls with white combs and the coffins with sweet black honey." It is a fine metaphor for the town.
A list of characters would have been helpful; a genealogical chart even more so. The complex histories of some of the characters are important, but can be difficult to keep track of. Though many readers may find the power of the novel's theme blunted by the tale's complexity, the strange history of Shamengwa's violin has a haunting effect. (2008; 311 pages)
More about The Plague of Doves at Powell's Books or Amazon.com

Others novels about relations between Native Americans and white settlers:
Laughing Boy by Oliver La Farge (1929), about a young Navajo man who falls in love with an American-educated Navajo woman in 1915 as the Navajo way of life becomes increasingly changed by the surrounding white culture; set within the author's lifetime, so not a true historcial novel. More info
House Made of Dawn by N. Scott Momaday (1968), about a man from a Pueblo Indian reservation after the end of World War II; won a Pulitzer Prize in 1969; set within the author's lifetime, so not a true historical novel. More info
The Dark Island by Robert J. Conley (1995), about the son of a Spaniard and a Cherokee who must decide whether to join the Spanish or help to defend the Cherokee; won the 1995 Spur Award for the Western Novel; #6 in the Real People series. More info

Nonfiction about the Ojibwe:
Books and Islands in Ojibwe Country: Traveling in the Land of My Ancestors by Louise Erdrich (2003). More info
Manitous: The Spiritual World of the Ojibwe by Basil Johnston (1995). More info
Ojibwe Waasa Inaabidaa: We Look in All Directions by Thomas Peacock and Marlene Wisuri (2001). More info

Online:
Ojibwa at www.American-Native-Art.com



Back to 20th Century: America Before the Wars

Back to Directory of Book Reviews