A Place Beyond Courage

by Elizabeth Chadwick
Reviewed by Margaret Donsbach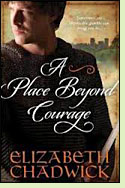 The central character in A Place Beyond Courage is John FitzGilbert, marshal to England's King Henry I and, for a time, to King Stephen, before transferring his allegiance to Empress Matilda during the long war between Stephen and Matilda for the throne. John FitzGilbert was also the father of William Marshal, who served Henry II and his sons and was regent of England after King John's death. This novel serves as an insightful prequel to Chadwick's fine novels about William Marshal. Readers of those know that when William was a young child, John was forced to let Stephen take him as a hostage when Stephen was besieging John's castle at Newbury in 1152. When Stephen threatened to hang the boy if John would not surrender his castle, John famously replied that he "still had the anvils and hammers to forge" more and finer sons. What sort of man could say such a thing?
A Place Beyond Courage portrays John as a complex, often admirable man. His service to Henry I develops his pragmatic character: as a young man of twenty-five, he is in charge of the court's finances and its whores. His first marriage is a disastrous mismatch to a paralyzingly fearful woman, devout to the point of superstition and too timid to manage an aristocratic household. Readers impatient with Aline can look forward to John's second marriage. One of Chadwick's strengths is the realistic portrayal of men and women in love, and the novel catches fire when the necessities of wartime demand that Aline be set aside for a new alliance. The climax that the novel builds to, though, is the moment when John gambles with his son's life, and though the novel can stand alone, it will likely be most engaging for those who have read the William Marshal novels. Like those, it pulls readers inside the psyches of medieval men and women, showing both how alike and how different we are from the people of the past. (2007; 504 pages, including a Select Bibliography and an Author's Note about the history behind the novel)
More about A Place Beyond Courage at Powell's Books
,
Amazon.com
or
The Book Depository
Other novels about John FitzGilbert and his son William Marshal:
The Greatest Knight
by Elizabeth Chadwick (2006), about William Marshal's rise to power in the reign of Henry II. See
review
or
more info at Powell's Books
The Scarlet Lion
by Elizabeth Chadwick (2006), about William Marshal during the reigns of King Richard the Lionheart and King John. See
review
or
more info at Powell's Books
Champion
by Christian Balling (1988), about William Marshal and his wife Isabelle de Clare.
More info
Nonfiction about John FitzGilbert and William Marshal:
William Marshal: Knighthood, War and Chivalry, 1147-1219
by David Crouch (2002), highly recommended by author Elizabeth Chadwick.
More info
William Marshal: Knight Errant, Baron and Regent of England
by Sidney Painter (1933).
More info
History of William Marshal
(originally written in French as
L'Histoire de Guillaume le Maréchal
shortly after Marshal's death in 1219; modern English translation by S. Gregory and D. Crouch, 2002), published in two volunes; hard to find for sale, but available through Interlibrary Loan.
Online:
John fitz Gilbert; the Marshal
at the Castle Wales website

Back to Historical Novels: Medieval Normans

Back to Directory of Book Reviews