Pirate Latitudes
by Michael Crichton
Reviewed by Margaret Donsbach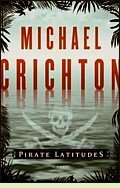 Pirate Latitudes is Michael Crichton's tribute to the classic pirate adventure story, and a grand tribute it is. In the fall of 1665, twenty years before the hero of Rafael Sabatini's Captain Blood is sold into slavery in Barbadoes - or Jamaica, in the 1935 movie starring Errol Flynn - Pirate Latitudes opens the curtain on a grumpy, gouty fictional governor of the English colony of Jamaica. "Governor Almont, known locally as 'James the Tenth,' because of his insistence on diverting a tenth share of privateering expeditions to his own personal coffers ... hobbled on his painful left leg across the room to make his toilet."
Almont is preparing to attend the hanging of a pirate. A significant distinction separates pirates, who attack English ships, from privateers, who do not. Encouraging privateer attacks on Spanish ships achieves two important objectives: cultivating skilled fighting men to defend the colony, "a small and weak outpost of England in the midst of Spanish territories," and fostering commerce by increasing the colony's wealth. Of course, even privateers must not attack without provocation – or some reasonable facsimile thereof.
Enter Captain Hunter, awakened from his afternoon slumbers with the news that the governor expects him for dinner and, "That Frenchman with the scar is downstairs looking for you." What the governor proposes is far more daunting than a drunken French pirate in a fury, but enticing enough to outweigh the hazards. In a cove protected by an impregnable Spanish fortress, a treasure ship showing signs of an unusually large cargo lies at anchor. Before long, decks are awash in blood, gunpowder is employed in a fiendishly clever manner, and the seas present dangers even more terrifying than a sadistic Spanish naval commander.
The research underpinning Pirate Latitudes is impressive. Vivid details of seventeenth-century life in the Caribbean heighten suspense by plunging the reader almost tangibly into this death-defying, magnificently improbable seafaring adventure. (2009, 312 pages)
Pirate Latitudes is on my "Best Historical Novels I Read in 2009" list.
More about Pirate Latitudes at Powell's Books or Amazon.com

Other novels about pirates:
Captain Blood by Rafael Sabatini (1922). More info
Treasure Island by Robert Louis Stevenson (1883), the nineteenth century children's classic that introduced the fictional Long John Silver and still influences the way we imagine pirates. More info
Silver by Edward Chupack (2008), a reimagining of Treasure Island for adults, narrated by Long John Silver. More info

Nonfiction about pirates:
Empire of Blue Water by Stephan Talty (2007), about the privateer Henry Morgan and his base of operation in Port Royal, Jamaica. More info
The Republic of Pirates by Colin Woodard (2007), about a group of pirates led by Edward Teach ("Blackbeard") who set up a functioning government in the Bahamas during the early eighteenth century. More info
Under the Black Flag by David Cordingly (1995), sorts out the myths from the reality of the pirate life. More info

At the Movies:
Captain Blood
, the classic 1935 film based on Rafael Sabatini's novel, starring Errol Flynn and Olivia de Haviland, directed by Michael Curtiz.
The Sea Hawk
, another movie, made in 1940, directed by Michael Curtiz and featuring Errol Flynn as a dashing Caribbean pirate – um, privateer.
Pirates of the Caribbean: Dead Man's Chest
, the 2006 pirate movie (first in a series) featuring Johnny Depp, a splendid performance in a movie as wildly unrealistic as it was popular.

Online:
The Pirate's Cove website by Rob Ossian – includes pirate biographies, glossaries of piracy and sailing terminology, a sailing simulator, and more.
Henry Morgan, a short biography of the Welsh-born Caribbean privateer at the Data-Wales website.



Back to Historical Novels: 17th Century

Back to Directory of Book Reviews