The Physick Book of Deliverance Dane
by Katherine Howe
Reviewed by Margaret Donsbach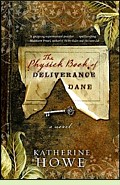 The Physick Book of Deliverance Dane is part modern Gothic novel, part sweet romance and part family saga, written with a humorous lilt and just a touch of sensationalism.
In 1991 Connie Goodwin starts her doctoral dissertation research in Colonial history under a condescending professor who seems just a little too interested in her work. During her qualifying exam, he asks a peculiar question: "Have you not considered the distinct possibility that the accused were simply guilty of witchcraft?"
Meanwhile, her flighty, New-Age mother has neglected to pay property taxes on a house uninhabited for twenty years since her grandmother's death. Connie agrees to spend the summer there getting it ready to sell. "The house contained exactly the kind of air that Connie would have expected to find in a sealed sea chest retrieved from the bottom of the ocean: woody, salty, and stale. Most of the afternoon light was screened out by the dense layers of leaves twined across the windows." The mysteries begin. What is the meaning of the key that falls out of a centuries-old Bible she finds on a shelf? Of the mandrake root her dog digs up? Of the fleeting visions she begins experiencing?
Most of the novel is set in 1991, interspersed every few chapters with a series of "interludes" in the seventeenth and eighteenth centuries telling the story of Deliverance Dane and her descendants. Gradually, with the assistance of her attractive new acquaintance Sam, a relaxed but level-headed restoration specialist, Connie's strict, academic rationalism loosens enough for her to discover the heritage she carries. Some may find The Physick Book of Deliverance Dane a bit slow-moving and predictable, but readers new to the concept of witchcraft as a beneficent (if not always harmless) gift will find plenty of surprises in its pages. (2009, 371 pages including a Postscript separating fact from fiction)
More about The Physick Book of Deliverance Dane at Powell's Books or Amazon.com

Other novels about the Salem witch persecutions:
The Heretic's Daughter by Kathleen Kent (2008). More info
The Shape of Mercy by Susan Meissner (2008). More info
The Diary of Dorcas Good, Child Witch of Salem by Rose Earhart (1999).
More info

Nonfiction about the Salem witch persecutions:
The Salem Witch Trials Reader by Frances Hill (2000), text of original documents with commentary by the author. More info
The Salem Witch Trials: A Day-by-Day Chronicle of a Community under Siege by Marilynne K. Roach (2004). More info
Salem Witch Judge: The Life and Repentance of Samuel Sewall by Eve LaPlante (2007). More info

At the Movies:
The Crucible
, Nicholas Hytner's 2004 film of Arthur Miller's 1953 play about the Salem witchcraft persecutions (written in the shadow of the McCarthy hearings persecuting suspected Communists), starring Daniel Day-Lewis, Winona Ryder and Paul Scofield.

Online:
Salem Witchcraft Trials at the University of Missouri – Kansas City School of Law website
Salem Witch Trials at the University of Virginia website



Back to Historical Novels: 17th Century

Back to Directory of Book Reviews