Persona Non Grata
by Ruth Downie
Reviewed by Margaret Donsbach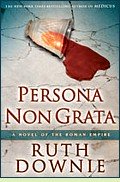 Persona Non Grata is the third mystery in the Gaius Petreius Ruso series about an army physician from Roman Gaul posted in northern Britain. Medicus, which launched the series, was a bestseller, and Persona Non Grata is a worthy successor.
A terse letter marked "urgent" has arrived from Gaul: "Come home, brother." Ruso wangles some extended leave and goes to see what the trouble is, bringing along his British mistress, Tilla (short for Darlughdacha). On arrival, he finds his presence deeply unwelcome. The near-bankrupt family estate is being claimed by a creditor held at bay only because Roman law prohibits confiscation of an estate whose owner is absent on military duty - Ruso, absent no longer. Then a man falls dead of poison while he and Ruso confer privately, and Ruso's flighty stepmother has the evidence scrubbed up before he can stop her. Who wrote the letter? No one will admit to it.
Ruso, Tilla and a cast of vividly drawn supporting characters plunge readers into an alien society while revealing passions and vulnerabilities we can still relate to. Struggling to protect his teenaged sister from an embarrassing love affair, Ruso "was silently mourning the erosion of the power of the Paterfamilias. There had been a time—he was not sure when, but he knew there had been one—when the head of a Roman household had enjoyed absolute power as well as ultimate responsibility."
Meanwhile, capable and intelligent Tilla is a fish out of water in Gaul, where everyone from Ruso's family to strangers in the street look down on her as a barbarian. Comparing herself to Ruso's gracious (and secretly unhappy) sister-in-law, she berates herself for not "loyally supporting him as if she thought he ... was the cleverest, bravest, and most interesting man in the world. That was what Roman men seemed to want."
One of the delights of Persona Non Grata is Downie's sense of humor. A scene in which a household slave brings pagan Tilla to a meeting of secret Christians is laugh-out-loud funny, while remaining warmly sympathetic to both Christians and pagans. (2009, 348 pages, including an Author's Note discussing the historical background)
Persona Non Grata is one of five mysteries on my "Best Historical Novels
I Read in 2009" list.
More about Persona Non Grata at Powell's Books
Interview with author Ruth Downie

Other mysteries in the Gaius Petreius Ruso series:
#1: Medicus (2007; titled Ruso and the Disappearing Dancing Girls in the U.K.), about Ruso's arrival in Roman Britain and his impulsive rescue of Tilla, enslaved to an abusive owner, as he becomes embroiled in investigating the murders of a series of "dancing girls;" a New York Times bestseller. More info
#2: Terra Incognita (2008; titled Ruso and the Demented Doctor in the U.K.), about Ruso's investigation of a grisly murder on the northern border of Roman Britain in which Tilla may be implicated, amid a rebellion by her tribe of the Brigantae. More info

Nonfiction about religion and medicine in the Roman Empire:
Roman Medicine by Audrey Cruse (2004). More info
Pagans and Christians by Robin Lane Fox (1986, 2006). More info
Religions of Rome by Mary Beard, John North, and Simon Price (1998). More info

Online:
Pictures of Roman Nîmes at www.romanhideout.com



Back to Novels of Ancient History

Back to Directory of Book Reviews