Pericles the Athenian

by Rex Warner

Reviewed by David Maclaine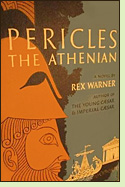 Pericles the Athenian tells a story that mostly falls through the cracks in the surviving histories from classical Greece. How did Athens, rebuilding after the Persians torched the city, forge an empire that eventually found itself in a fierce struggle against the Spartans and their allies? How did the fickle Athenians, notorious for sending into exile - or putting to death - more brilliant men than most nations produce in centuries, find themselves willing to follow a single leader whose name came to define the city's golden age? These are the questions thoughtfully answered by Rex Warner's novel.
Warner retells the story of Pericles, the one man who rode the seemingly untamable Athenian polis without being thrown, as seen through the eyes of his philosopher friend Anaxagoras. Pericles the Athenian is less the usual fictional structure of scenes weaving description and dialogue than it is the recreation of the missing history we wish had survived. The language is in the stately manner of Warner's translations of Greek historians, creating the illusion that this book too came from a Greek original. I know of no other fiction which so perfectly maintains the pretense of a specific ancient authorship. That fidelity to the ancient style means we are sometimes at a distance from events instead of immersed in them. But it's hard to be too harsh with Warner's brilliant feat of ventriloquism. His faux history tells an important story while being more readable than his ancient exemplars because of his keen grasp of the information a modern reader requires to make sense of it all. And the story itself is, after all, one of the most important in all Western history. How did Athens enter the golden age that bequeathed us Anaxagoras, Socrates, Pheidias, Pindar, Aeschylus, Sophocles, and Euripides? Read Warner's novel and you'll get a good idea. (1963, 240 pages)
More about Pericles the Athenian at Amazon.com
Pericles the Athenian
appears on the list of
The 36 Best Historical Novels for a Survey of Ancient Greek History
Other novels set in ancient Athens:
The Last of the Wine
by Mary Renault (1956), about a student of Socrates. See
review
or
more info at Powell's Books
The Flowers of Adonis
by Rosemary Sutcliff (1969), about the brilliant but erratic Athenian general Alkibiades.
More info
Glory and the Lightning
by Taylor Caldwell (1974), about the courtesan Aspasia and Pericles of Athens.
More info
Nonfiction about Pericles and ancient Athens:
Plutarch's Lives: Greek Lives
by Plutarch (1st century A.D.).
More info
or
read the "Life of Pericles" online
The Acropolis in the Age of Pericles
by Jeffrey M. Hurwit (2004).
More info
Pericles of Athens and the Birth of Democracy
by Donald Kagan (1991).
More info
Online:
Pericles
at Wikipedia
Back to Novels of Ancient History
Back to Directory of Book Reviews