People of the Book
by Geraldine Brooks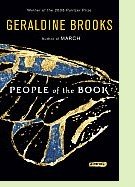 People of the Book was inspired by a a Jewish prayer book known as a haggadah made in Spain over 500 years ago. When it was discovered in Sarajevo in 1894, it rocked the world of art historians. Unlike all other known medieval haggadahs, it was lavishly illustrated with scenes depicting human figures. Why? And how had it survived for so long? Brooks' novel lovingly describes the book but is really about the people who created, preserved and rescued it over the centuries of its existence: individual Jews, Muslims and Christians who cared for the book and each other when the larger groups to which they belonged were in violent conflict. Although the novel's characters are fictional, the real Sarajevo Haggadah was in fact protected during the recent war in Bosnia by a Muslim who hid it in a bank vault during the shelling that destroyed Bosnia's museums.
The story begins in the present day with a 2:00 a.m. phone call to an Australian museum conservator from a colleague looking for someone competent to restore the book after political considerations eliminated more obvious experts. Then the story travels back in time: to 1940 Sarajevo when the book was saved from the Nazis, to 1894 Vienna when it was inexpertly restored, and so on, back to its origin in medieval Seville.
In novels which cover a large swathe of history, characterization often suffers because of the limited space available to tell a moving story in each time period. But though Brooks has clearly done her research, in People of the Book, the characters and their stories are always paramount. Like this, about an alcoholic priest in 1609: "The bells—silvery, shivering—rang in his head as if the clappers were striking the raw red interior of his skull. The wine lapped the cup as he replaced it on the altar. When his knee touched the floor, he rested his brow against the crisp linen. He stayed there a moment, letting the cold of the marble seep through the altar cloth." (2008, 372 pages)
This is on my list of The Ten Best Historical Novels I Read in 2008.
More info about People of the Book at Powell's Books

Similar novels which begin in modern times and move backwards through time:
Girl in Hyacinth Blue by Susan Vreeland, follows a Vermeer painting back through time in a series of short stories about its owners. More info
The Grass Dancer by Susan Power, about a modern Sioux woman and her ancestors. More info

Nonfiction about the history of illuminated manuscripts:
The Illuminated Page by Janet Backhouse. More info
A History of Illuminated Manuscripts by Christopher de Hamel. More info
British Library Guide to Manuscript Illumination: History and Techniques by Christopher de Hamel. More info
Illuminated Manuscripts and their Makers by Rowan Watson. More info

Nonfiction about the historical times periods of the novel:
Ornament of the World: How Muslims, Jews, and Christians Created a Culture of Tolerance in Medieval Spain by Maria Rosa Menocal. More info
A Jewish Renaissance in Fifteenth Century Spain by Mark D. Meyerson. More info
The Jews of Europe and the Inquisition of Venice, 1550-1620 by Brian Pullan. More info
Vienna and the Jews, 1867-1938: A Cultural History by Steven Beller. More info
Sarajevo Rose: A Balkan Jewish Notebook by Stephen Schwartz. More info