Paula Marantz Cohen Interview
September 11, 2010
HistoricalNovels.info interviews
the author of What Alice Knew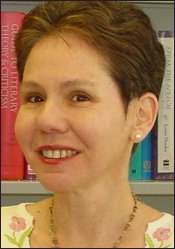 It was a pleasure to feature an interview with Paula Marantz Cohen, author of the new "Jack the Ripper" mystery What Alice Knew, on September 11, 2010. The distinctively different feature of this Ripper mystery is its team of sleuths: pioneering American psychologist William James; his expatriate brother Henry, the novelist; and their invalid sister Alice. Welcome, Paula!

Siblings William, Henry and Alice James all make fascinating character studies. Which of the three did you personally find most interesting?
I have a deep affinity for Henry James--I've been reading his novels and stories since I was a teenager. In writing the book, however, I discovered that it was William with whom I most strongly identified. Yet, ironically, my sister said that she heard my voice most clearly in the character of Alice.

Your novel presents one possible answer to who Jack the Ripper really was. Do you think, with modern forensic techniques, the Ripper's true identity will ever be determined?
I don't think so, at least not one that will be definitive. Much of the appeal of the case lies in its remaining open to speculation. In this sense, it is a Jamesian case. Henry James's novels avoided--and distrusted--closure.

In your novel, pioneering psychologist William James's involvement in the Ripper case is fictional. Did he ever consult on an actual criminal case?
Not that I know of. But he should have been. I did read an article recently explaining how William James's theory of pragmatism had an effect on policing procedures.


---


Review of What Alice Knew by Paula Marantz Cohen
See listing for What Alice Knew at Powell's Books
See listing for What Alice Knew at Amazon.com