Paula Brackston Interview
January 19, 2011
HistoricalNovels.info interviews
the author of The Witch's Daughter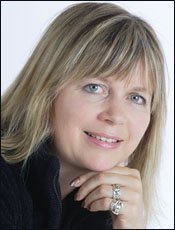 It was great to have author Paula Brackston visit the blog on January 19, 2011. Her novel The Witch's Daughter follows the dramatic life of a seventeenth-century witch into the present day. Welcome, Paula!

From all of Bess's lengthy life, what led you to pick the 1620s, the Jack-the-Ripper years, and World War I as the three historical periods to dramatize in The Witch's Daughter?
The first half of the seventeenth century in Britain was a time when witch hunting was at its height, so this seemed a realistic place to find a true witch. Both the Victorian period and the First World War offered a very dark and menacing environment in which to show Bess continuing her struggle against the evil forces of magic. And these are eras that have always fascinated me. There was so much change and progress in the nineteenth century; society was in a state of constant flux. That instability suited the tone of the story I was writing. The horrors of trench warfare, and the pointless loss of life, were things I wanted to write about. For Bess, to see suffering on such a scale was almost unbearable.
I love researching different historical periods, and have to be careful not to spend too long rooting through archives or reading around the subject. There is such an abundant supply of information, which can be both marvellous and problematic if you are trying to write a work of fiction!

Although parts of your novel are pure fantasy, Bess also practices herbalism and folk charms that many people have believed to be genuinely effective. Where do you feel the dividing line is between fact and fantasy?
While I was writing the story I didn't distinguish between the two in my mind, I simply entered the fantasy of Bess's world. When I am immersed in creating a book it is all very real to me, and yet all of my invention too. That said, of course some of the herbal remedies mentioned are indeed in common use. I've used some myself, but only on horses!
Bess, though, did make the distinction, being happy to use the herbalist practices her mother taught her, but (initially) shying away from anything she considered magic. She would have reasoned that a herbal cure was not a magic potion, just as a blessing or a prayer were not magic spells. Remember, the first were acceptable in her society, the latter would have seen her hanged as a witch.


---


Review of The Witch's Daughter by Paula Brackston
See listing for The Witch's Daughter at Powell's Books
See listing for The Witch's Daughter at Amazon.com