Paths of Exile
by Carla Nayland
Reviewed by Annis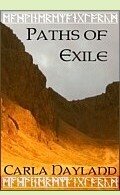 A classic hero quest set in seventh-century Britain, Paths of Exile is based on the true story of Eadwine of Deira, a fugitive prince pursued by a relentless enemy throughout the land as he sought refuge and an ally to help him claim his lost kingdom.
Deira is part of Anglo-Saxon Northumbria, one of many kingdoms forming the patchwork of post-Roman Britain. Their constantly changing pattern reflects an ongoing cycle of conquest and re-conquest as immigrant Germanic tribes assimilate, sometimes savagely, sometimes through alliance and marriage, with both the native Celts and each other.
A child of two cultures, Eadwine is the youngest son of King Aelle, an Anglian warlord, and the Brittonic princess he married to legitimise his kingship. Intense and quick-witted, Eadwine knows the loneliness of being "different". Despite his proven skill as a warleader, Eadwine is considered of little account at Aelle's court, where brawn and bravado carry the day.
At peace for many years, Deira is now under assault from its ambitious neighbour King Aethelferth of Bernicia. The resulting clash annihilates Aelle and his household troop, but the wounded Eadwine is rescued by loyal retainers from his personal warband. He is not grateful. His duty was to die with King Aelle: there is no greater dishonour for an Anglo-Saxon warrior than to survive his lord in battle.
Eadwine's escape enrages King Aethelferth. In return for victory, Aethelferth has promised the vengefiul god Wodan Eadwine's head as a sacrifice, and now puts a hefty price on it, dead or alive. Roused from despair by concern for his companions, the young prince leads them on a desperate, dangerous journey in search of safety.
Paths of Exile is a turbulent tale of warfare, treachery, comradeship and love, full of action, memorable characters and delectably dry humour. Nayland incorporates a wealth of detail without compromising the fast-paced narrative, writing with an immediacy which brings to vivid life a world that has long since passed into the shadows of history. (2009; 221 pages, including maps, historical notes and a glossary of place names)
More about Paths of Exile at Powell's Books or Amazon.com

Other novels set in sixth and seventh century Britain:
Flight of the Sparrow by Fay Sampson (1999), the story of how King Edwin (Eadwine) converted to Christianity. More info
The Whispering Bell by Brian Sellars (2009), about a seventh century Anglo-Saxon woman and her struggle for justice in a man's world.
More info
Bride of the Spear (titled Lady of the Fountain in the U.K.) by Kathleen Herbert (1990), #1 in the Northumbria trilogy about an abused woman and a Cumbrian prince. More info

Nonfiction about early Anglo-Saxon England:
The Ecclesiastical History of the English People by the Venerable Bede (8th century), includes the story of King Edwin in Book 2, Chapters 9-20.
More info at Powell's Books or read it free online at "Medieval Sourcebook"
Northumbria: 500-1100, Creation and Destruction of a Kingdom by David Rollason (2003). More info
Kings and Kingdoms of Early Anglo-Saxon England by Barbara Yorke (1997). More info

Online:
Brief History of Anglo-Saxon England at the Regia Anglorum website
"Of the reign of King Edwin," chapter IX of Bede's Ecclesiastical History at the Christian Classics Ethereal Library website.
The Old English poem The Wanderer, from which Paths of Exile takes its name, in the original Old English and modern English translation at the Anglo-Saxons.net website. An excerpt (from a different translation):
... he must for a long time
travel the waterways, the ice-cold sea,
tread the paths of exile.
Fate goes as it must.



Back to Novels of the Medieval Anglo-Saxons

Back to Directory of Book Reviews