Passing Under Heaven

by Justin Hill

Reviewed by David Maclaine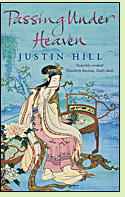 Passing Under Heaven skillfully tells the story of Tang Dynasty poet Yu Xuanji. Author Justin Hill began with his translations of Yu's 49 surving poems and around them constructed a fictional framework for what is known of her brief life. He describes her time - the middle of the ninth century A.D. - as one "in which East Asian women enjoyed a level of personal freedom greater than any time before the twentieth century." If that's correct I suspect I lack the stomach to read much about the lives of Chinese women in other centuries: this one is about as grueling as I can manage. The heroine survives a dire childhood, enjoys an interval of intense sexual love, and produces poetry that has survived for over 1200 years, but most of her life is spent painfully chafing against the incredible restraints of her culture. Her tribulations begin when her mother, a general's concubine, is left without support after the general disappears on a mission to the west, and she is forced to sell Yu. It is not the last time the girl will be sold. Her mother has taught her to read and write a little, skills an adoptive father improves; because of that gift, Yu's mind and sensibility can reach across the centuries to touch ours. But the novel shows us a beautiful and gifted individual who enjoy only few brief flights of freedom before the harsh constraints of her culture take retribution for her defiant personality.
The style of Passing Under Heaven is as direct and simple as the best Chinese poetry, and the details of life at various levels of society feel convincing. In frenzies of frustration Yu commits violent acts that may risk losing a squeamish reader's sympathy. But readers willing to face some harsh realities will be moved by this evocation of a golden age built on a foundation of misery. (2004, 440 pages)
More about Passing Under Heaven at Amazon.com
Other novels about Chinese poets:
Go Ask the River
by Evelyn Eaton (1969), about the eighth-century courtesan and poet Hung Tu. See
review
or
more info at Powell's Books
A Floating Life: The Adventures of Li Po
by Simon Elegant, about a T'ang Dynasty poet.
More info
Taming Poison Dragons
by Tim Murgatroyd (2012), about an elderly man in twelfth-century China who draws upon memories of his youth as a poet to sustain him in facing challenges ranging from civil war to a wayward son.
More info
The poetry of Yu Xuanji:
The Clouds Float North: The Complete Poetry of Yu Xuanji
, translated by David Young and Jiann I. Lin (1998).
More info
Nonfiction about Tang Dynasty China:
China's Golden Age: Everyday Life in the Tang Dynasty
by Charles Benn (2002).
More info
China's Cosmopolitan Empire: The Tang Dynasty
by Mark Edward Lewis (2009).
More info
Online:
Leonard Ng on Yu Xuanji
at the Asymptote Journal
Back to Historical Novels, Asia
Back to Directory of Book Reviews