Parlor Games

by Maryka Biaggio

Reviewed by Margaret Donsbach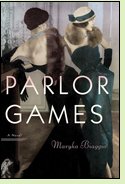 Parlor Games is about real-life swindler and seductress May Dugas, who left relatively few traces in the historical record - other than some New York Times articles about lawsuits filed against her, including "Black Pearl Case Settled" in 1912 and "Baroness Accused of $125,000 Swindle" in 1917. Based largely on a pamphlet by Lloyd Wendt, Life of May Dugas of Menominee, which Biaggio notes is "not always accurate," it's an eyebrow-raising novel. May gallivants from her boring little hometown, Menominee, Michigan, to a Chicago bordello, to society circles where she meets a banker's son all too eager to propose - a venture that first puts Pinkerton detective Reed Dougherty on her trail. And that's only the beginning.
Narrated by May, the novel opens with her 1917 trial for extortion in Menominee. It then backtracks to May's youthful goal of moving to Chicago and finding a wealthy husband. Her high school sweetheart is a stepping stone - and he does get stepped on. The focus, moving back and forth from the trial to her career, is on May's insouciant, cold and clever manipulation of almost everyone she encounters. So unreliable a narrator is she that when she describes falling in love with a business traveler in Japan and, later, the son of a government official in Mexico, readers are unlikely to feel touched by the heartache she claims when the affairs end badly.
Readers who get a vicarious thrill from imagining themselves in the gorgeous gowns and opulent surroundings of a wily, self-indulgent woman with few qualms short of out-and-out murder will enjoy May's tart narration. "And after all," she says in regard to her stay in the Chicago bordello, "men are not terribly difficult to manage. They are rather like puppies: Roll them on their back and convince them you're master and you've tamed them." That's about as explicit as any of the sex gets in Parlor Games, except for a playful lesbian encounter that mentions but avoids describing "kisses and caresses." (2013, 338 pages, including a Bibliography)
More about Parlor Games at Powell's Books
or
Amazon.com
Other novels about women on the make:
Moll Flanders
by Daniel Defoe (1722), a comic novel about a woman born into poverty and misfortune who lives by her wits, rising from servitude, prostitution and thievery to respectable married woman.
More info
Fanny: Being the True History of the Adventures of Fanny Hackabout-Jones
by Erica Jong (1980), a comic novel about an eighteenth-century woman who aspires to become a poet but, after her stepfather rapes her, flees to London and lands in a brothel; explicit.
More info
Sister Carrie
by Theodore Dreiser (1900), about a country girl who travels to Chicago, where she pursues her ambitions by becoming a man's mistress.
More info
Nonfiction about women swindlers:
Women Swindlers in America, 1860-1920
by Kerry Segrave (2007).
More info
Swindler, Spy, Rebel: The Confidence Woman in Nineteenth-Century America
by Kathleen De Grave (1995).
More info
Sexual Blackmail: A Modern History
by Angus McLaren (2002).
More info
At the Movies:
Moll Flanders
, the Masterpiece Theatre miniseries starring Alex Kingston as Moll.
Online:
The Female Con-Artist Who Preyed on New York Men
at the Ephemeral New York blog
Back to Novels of Nineteenth-Century America
Back to Directory of Book Reviews