Pagan's Crusade
by Catherine Jinks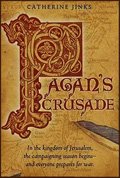 Pagan's Crusade, the first in a series, is narrated by a smart-alecky, street-wise sixteen-year-old boy. Fatherless Pagan Kidrouk grew up on the streets of twelfth-century Jerusalem. He got his unusual name from a mother who died too soon to give him a slightly more secure life. Jerusalem has been Christian since it was captured by Crusaders almost a century before, so Pagan is Christian too - though irrepressibly irreverent.
Fending for himself can be dangerous, so Pagan looks for a safer haven as a squire for a Templar Knight. He's in luck: "All right, Kidrouk. Let's settle this once and for all. You're rubbish. You wouldn't have gotten as far as that door if the Order weren't desperate. In April we lost four score knights to a Muslim raiding party sent from Damascus. Then the King called his vassal knights to Acre for the spring campaign.... Meanwhile, the pilgrims are pouring in, and we have to man the road forts.... You're a last resort, understand?"
More luck, the knight Pagan gets assigned to is a hot-shot: "He looks like something off a stained-glass window. Tall as a tree, golden hair, wide shoulders, long nose, eyes as blue as the Virgin's mantle.... If he's as good as he looks, I'm in big trouble."
The Crusades were not exactly a showpiece for Christian virtue, and despite his scrappy survival instincts, Pagan has too much integrity to mouth pieties when the adults around him are busy making fools of themselves. He's perpetually one snarky comment away from disaster, making Pagan's Crusade a fast-moving, suspenseful, funny story. Adults will enjoy this one, too. (1992; 246 pages; recommended for ages 12 and up)
More about Pagan's Crusade at Powell's Books or Amazon.com

Other novels in the Pagan series:
#2: Pagan in Exile (2004). More info
#3: Pagan's Vows (2004). More info
#4: Pagan's Scribe (2005), More info

Nonfiction about the Crusades:
The Crusaders: Warriors of God by Georges Tate (1996). More info
The Crusades Through Arab Eyes by Amin Maalouf (1986). More info

Online:
"Crusades" at The Orb website
"Ancient Maps of Jerusalem," a joint project of the Jewish National and University Library and the Hebrew University of Jerusalem's Department of Geography



Back to Young Adult Novels: Medieval

Back to Directory of Book Reviews