Outlander
by Diana Gabaldon
Reviewed by Susan Gillmor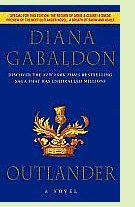 Outlander is the flagship novel in Diana Gabaldon's wildly popular series of the same name. This sweeping historical saga begins quietly in the hills of Scotland in the wake of World War II. Claire Randall, a battlefield nurse during the war, is sharing a delayed honeymoon with husband Frank, a British intelligence officer. Their reunion is cut short when Claire disappears in a circle of standing stones and is catapulted 200 years into the past to a wilder, more brutal Scotland. A willing suspension of disbelief aids enjoyment of the ensuing rollercoaster ride as real-life historical figures blend with fictional in a dizzying array of action.
Claire immediately crosses paths with her twentieth-century husband's sadistic ancestor, Jonathan Randall, then with the powerful Clan MacKenzie. Young warrior and laird Jamie Fraser, nephew to the MacKenzie chieftain, complicates Claire's quest to find the standing stones and return to her own century. Her feisty independence and acerbic tongue keep her neck-deep in hot water and soon find her married to young Fraser in a desperate bid to save her own life. The excitement never stops as Claire and Jamie dive headlong from the frying pans of clashing broadswords into the fires of witch-burning.
Scotland in the 1740s is a battleground of competing factions, Bonnie Prince Charlie's Catholic loyalists against King George's Protestant England. Claire is set smack in the middle of a decisive moment in time. Gabaldon's genius is in the details she offers of life amid the heather and hills of Scotland, from the practical necessities of a pre-plumbing society and fetid infections engendered by ancient weapons and ineffective medical practices to the brutality of Wentworth prison. Twentieth-century nurse Claire is forced to adapt to these crude realities. With the force of a skillful bard, Gabaldon brilliantly fulfills the potentials of this scenario, beginning in Outlander a long and adventurous journey. (1991, 864 pages)
More about Outlander from Powell's Books
See the "British Isles" section of the 18th Century page for the rest of the novels in the Outlander series.

Diana Gabaldon's Guide to the Outlander series:
The Outlandish Companion (1999). More info

Other novels set during the Jacobite rebellion of the 1740s:
The Flight of the Heron
by D.K. Broster, (1925), about a young Highland chieftain who supports Charles Stuart during the Jacobite rebellion, and his friendship with an English soldier who fights for his enemies; #1 in the Jacobite trilogy, which continues with A Gleam in the North
(1927) and The Dark Mile
(1929).
Bonnie Prince Charlie by G.A. Henty (1888), a romantic tale from the nineteenth century.
Gold for Prince Charlie
by Nigel Tranter (1962), about Rob Roy MacGregor's efforts to protect the gold and arms that arrived too late to help Prince Charlie's supporters win the Battle of Culloden; #3 in the MacGregor trilogy.

Nonfiction about the Jacobite Rebellion:
The '45: Bonnie Prince Charlie and the Untold Story of the Jacobite Rising by Christopher Duffy (2004)
Bonnie Prince Charlie: Charles Edward Stuart by Frank McLynn (1988)
The Jacobite Wars by John L. Roberts (2002)

Online:
What Jamie Fraser looks like:
Diana Gabaldon's comments on her blog
Back to Novels of the Eighteenth Century

Back to Directory of Book Reviews