Only Time Will Tell
by Jeffrey Archer
Reviewed by Margaret Donsbach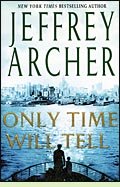 All families may have secrets, but the families in Only Time Will Tell have more than most. In 1919 when Maisie is on an outing with her fiancé, Arthur, he goes off to the pub instead of getting romantic. "I had always planned to lose my virginity on the works outing to Weston-super-Mare," Maisie confides to the reader, "just not to that particular man." She and Arthur marry shortly thereafter, and when her son is born, she can't be sure which man fathered him. But Arthur dies while Harry is a toddler; Harry grows up believing his father was killed in the Great War.
From there, the secrets multiply, with more twists than a season of soap operas and enough foreshadowing for readers to see a few of the twists coming. Harry starts as a bright but school-averse child expecting to follow in the footsteps of his loutish uncle, a dock worker. An unexpected talent wins him a scholarship to an exclusive school where he can pursue greater dreams - if a mean prefect doesn't crush his spirit. As one of Harry's mentors says, "The lesser the talent, the bigger the snob, in my experience. It's the only way the so-called upper classes can hope to survive. Be warned, my boy, they don't care for upstarts like you who barge into their club without an invitation."
Written in a style reminiscent of Catherine Cookson or Maeve Binchy, heart-warming and shocking by turns but free of explicit sex, Only Time Will Tell spans the years between the world wars. It features maternal sacrifice, wisdom in unlikely places, stern but kindly schoolmasters, loyal friends, and the ruthlessness of a man who will stop at nothing to cover up his sins and failures. The narrative frequently doubles back in time, changing point of view to offer the perspective of a character who can reveal secrets unknown to the others. A cliffhanger ending makes a sequel certain. (2011; 386 pages)
More about Only Time Will Tell at Powell's Books or Amazon.com

Other novels revolving around children of uncertain parentage:
The Glass Virgin by Catherine Cookson (1969), about a young woman raised by aristocratic parents in Victorian England who is forced into the lower class after learning a long-kept secret about her birth. More info
The Forgotten Garden by Kate Morton (2008), about a little girl abandoned on a ship to Australia in 1913 and the mystery of her origins. See review or more info at Powell's Books
The Wilding by Maria McCann (2010), about a cider-maker in the years after the English Civil War who decides to investigate a mysterious and potentially horrifying family secret. See review or more info at Powell's Books

Nonfiction about class consciousness in England:
Watching the English: The Hidden Rules of English Behaviour by Kate Fox (2004), an anthropological study of contemporary English customs, many related to class consciousness. More info
Classes and Cultures: England, 1918-1951 by Ross McKibben (2000). More info
The Rise and Fall of Class in Britain by David Cannadine (1998). More info

Online:
The English Class System
, an Amazon.com "Listmania" that includes especially illuminating novels, nonfiction, movies and more.



Back to 20th Century Europe Between the Wars

Back to Directory of Book Reviews