The Observations

by Jane Harris

Reviewed by Margaret Donsbach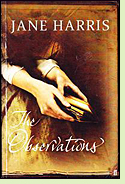 The Observations takes its title from a character's amateur research project of the same name. In nineteenth-century Scotland, Bessy, a young woman down on her luck and looking for whatever employment she can find, stumbles onto an estate that has seen better days. To her pleased astonishment, when she shows she can read and write, something unusual in maidservants, she is hired on the spot. Given a notebook and asked to record her daily activities and thoughts, she obliges with a bare and not always truthful minimum. Arabella, her mistress, is decidedly eccentric, overly kind some days, almost cruel others. As Bessy learns, bit by bit, about past events on the estate, she wonders and worries about the fate of the maidservant she has replaced.
Bessy's tart, sometimes bawdy narration, naive and insightful at once, is witty enough to keep readers poised between laughter and unease. The story is captivatingly original, making its twists and turns all the more unexpected. If Bessy has her flaws, she keeps a tenacious hold on the reader's sympathy. And if Arabella's carelessness with Bessy's feelings make her profoundly unsympathetic for a time, when Bessy and the reader come to know her better, she wins some forgiveness.
This is an unlikely tale, but The Observations is based on a sound understanding of nineteenth-century preoccupations. Arabella's misguided project echoes the spirit of amateur research that animated men of her time, though she fails to win the respect a man might have. Bessy and Arabella may be miles apart in social class, but both their lives are distorted by the narrowness of their culture's views about women. In the end, both prove resilient in surprising ways. (2006, 405 pages)
More about The Observations at Powell's Books
,
Amazon.com
or
The Book Depository
Other novels narrated by maids:
The Wet Nurse's Tale
by Erica Eisdorfer (2009), about a nineteenth-century maidservant who becomes a wet nurse. See
review
or
more info at Powell's Books
The Mistress of Nothing
by Kate Pullinger (2009), about the lady's maid who accompanies Lucie Duff Gordon to Egypt in 1862. See
review
or
more info at Powell's Books
The Book of the Maidservant
by Rebecca Barnhouse (2009), a novel for teens about a maidservant who goes with medieval religious fanatic Margery Kempe on her pilgrimage to Rome. See
review
or
more info at Powell's Books
Nonfiction about the lives of servants:
Servants: A Downstairs History of Britain from Nineteenth-Century to Modern Times
by Lucy Lethbridge (2013).
More info
Up and Down Stairs: The History of the Country House Servant
by Jeremy Musson (2009).
More info
Aprons and Silver Spoons
by Mollie Moran (2013), the memoirs of a woman who worked her way up to head cook in the early part of the twentieth century.
More info
Online:
Victorian Servants: Scullery Maid and House Maid
at VictorianLifestyle.org
Back to Novels of Nineteenth-Century Europe
Back to Directory of Book Reviews