The Noble Assassin
by Christie Dickason
Reviewed by Annis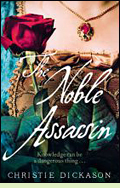 An entrancing story of love, poetry and politics, The Noble Assassin centres on an influential Jacobean courtier and patron, the fascinating Lucy Russell, Countess of Bedford. Lucy is made for light, warmth and colour. Escaping her chilly, loveless marriage for the gaiety and intellectual stimulation of the court, clever, witty Lucy is in her element. A favourite with James' queen consort, Anne of Denmark, she indulges her passion for masques, poetry and music and her many projects: architecture, ornamental gardening and patronage of the arts.
A complex, quicksilver creature, Lucy dazzles with her beauty and vivacious charm, masking her inner vulnerability, but can't deceive brilliant, controversial poet John Donne. They are "mirrors of being, reflecting the truth to each other". With him she finds the fulfillment she seeks: "I had not known what to call those defects of loneliness before he named them and healed them in me." Both are out of the ordinary; neither quite fit, except - for all too brief a time - together.
Forced into retirement after the queen's death, Lucy despairs: "I still brim with unwritten words, unsung music, unplanted gardens…. I feel like a piece of verse begun but not finished. There is one poet who could have written me but never will." News of Elizabeth Stuart's forced exile from Bohemia rouses Lucy from despondency, but will her impulsive attempt to help her old friend the king's daughter lead her to the executioner's block?
Beautifully written with an eloquent, strikingly poetic sensibility, The Noble Assassin evokes the excesses, intrigues and personalities of the Jacobean court, dominated by the restless presence of James himself: dogmatic, paranoid and misogynistic. Lucy, educated in the rigorous Elizabethan humanist style, has become an unnatural, even threatening, anomaly in a society where the king's opinion holds sway: "To make women learned and foxes tame has the same effect - to make them more cunning". (2011; 400 pages, including Author's Notes, a list of historical and fictional characters, a timeline and a bibliography)
More about The Noble Assassin at Powell's Books, Amazon.com
or The Book Depository

Other novels set in the Jacobean period:
The King's Daughter by Christie Dickason (2010), based on the life of the young Elizabeth Stuart until she marries Frederick V, Elector Palatine. Although a standalone, it is a companion to The Noble Assassin, in which an older Elizabeth plays a significant role. More info
The Lady and the Poet by Maeve Haran (2009), about John Donne and Ann More, who married for love against her father's wishes. More info
The Winter Queen by Jane Stevenson (2003), first in a trilogy about the exiled Elizabeth of Bohemia, daughter of James I of England. More info

Nonfiction about Jacobean England and the poetry of John Donne:
Writing Women in Jacobean England by Barbara Kiefer Lewalski (1993). More info
King James: VI of Scotland, I of England by Antonia Fraser (1994). More info
Selected Poems by John Donne (Penguin Classics edition, 2007). More info

Online:
Lucy Russell, Countess of Bedford, article at Wikipedia

Verse: A stanza from "The Ecstasy" by John Donne.
When love with one another so
Interanimates two souls,
That abler soul, which thence doth flow,
Defects of loneliness controls.

Full text at Luminarium



Back to Novels of the Seventeenth Century

Back to Directory of Book Reviews