Myself as Witness
by James Goldman
Reviewed by Annis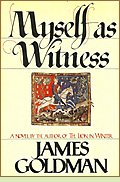 Myself As Witness brings thirteenth-century chronicler Gerald of Wales out of retirement to record the last tumultuous years of King John's reign. Witty and moving, this is a unique portrayal of the English monarch widely regarded as a monster, narrated by a man who loves him but has no illusions about his flaws.
A peremptory summons from King John in 1212 startles Gerald. Living in comfortable seclusion at Lincoln, he assumes that his long years of service with the devious, tempestuous Plantagenets are over. But John needs a chronicler, and frankly, Gerald is the only decent one still alive. "Great things are going to happen", says the king, "I want a record kept". Despite peevish protestations, Gerald is secretly delighted to be at the centre of action again. He's known John for years and is undaunted by the king's notorious temper. Forthright Gerald has never been afraid to speak his mind to royalty.
Momentous events do occur, but not the ones John hoped for: devastating defeats by the French, forced submission to the Pope, ongoing rebellion by his nobles and capitulation to their demands for a new Charter of Liberties. His formidable family haunt him. "I'm not Henry, Eleanor or Richard", he cries in anguish, "I'm John!" Paranoia fed by misfortune and betrayal exacerbates his rage and despondency, leaving him unable to act decisively. He trusts nobody and pushes away those who love him: his queen, Isabelle; his loyal half-brother, William Longsword;* even the unimpeachable, elderly statesman William Marshal, who yet again proves to be England's lynchpin. Desperation drives John inexorably toward self-destruction.
A thoughtful commentary on how perceptions of history are inevitably shaped by those who record it, Myself as Witness takes King John's tragedy as its subject, but its narrator steals the show. Gerald is revealed in his own tart, engaging voice as a rather endearingly self-important man, sometimes testy but always likable, compassionate, and a friend to be relied upon right to the bitter end. (1979, 340 pages)
*Recent research has changed some preconceptions commonly believed when this book was written, in particular that Rosamund Clifford was William Longsword's mother, now known to have been another of Henry II"s mistresses, Ida de Tosney.
More about Myself as Witness at Powell's Books or Amazon.com

Other novels featuring King John:
Here Be Dragons by Sharon Kay Penman (1985), set in Wales during King John's reign. More info
The Scarlet Lion by Elizabeth Chadwick (2006), about William Marshal, who was instrumental in bringing King John to the throne after the death of Richard the Lionheart. See Review or More info at Powell's Books
Ivanhoe by Sir Walter Scott (1819), the original "Robin Hood vs. King John" novel. More info

Nonfiction about King John and Gerald of Wales:
King John by W. L. Warren (rev. ed. 1978). More info
Richard and John: Kings at War by Frank McLynn (2007). More info
Gerald of Wales by Robert M. Morris (1987). More info

At the Movies:
The Lion in Winter
, the 1968 film of James Goldman's play starring Katherine Hepburn and Peter O'Toole as Eleanor of Aquitaine and Henry II, with Nigel Terry as the young John. Not to be missed.
The Life and Death of King John, a 1984 BBC production of Shakespeare's play, starring Leonard Rossiter and Claire Bloom.

Online:
King John at the English Monarchs website
The Magna Carta at the British Library website.



Back to Medieval: The Angevins

Back to Directory of Book Reviews