My Enemy's Cradle
by Sara Young
Reviewed by Annis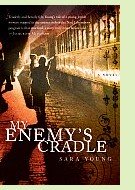 "If you leave them, people can die." For Cyrla in My Enemy's Cradle, this mantra is born of bitter experience. A bright, sensitive teenager who has lost her family, she consoles herself with the poems of Rilke, the inspiration for her own poetry.
For a half-Jewish girl, Holland in 1941 is a precarious refuge. German occupying forces are implementing anti-Semitic laws. Her comfortable life with her Dutch relatives has been destroyed by paranoia and suspicion.
Cyrla shares with her cousin Anneke, pregnant with the child of a German soldier, both a close relationship and an uncanny physical resemblance. The chance to escape comes at a terrible cost as Cyrla takes the place of her cousin at a German Lebensborn maternity home, becoming pregnant herself to do so. Tension mounts as her pregnancy advances and a planned rescue fails to materialise. Babies who are unacceptable by reason of physical defect or inferior bloodlines "disappear," and Cyrla's fear for her unborn baby grows suffocating.
The Lebensborn project was part of a systematic racial and eugenic selection program overseen by Himmler. My Enemy's Cradle uses its history to explore themes of sacrifice, guilt and the destructive toll of compromise with a morally perverted regime. Full of compelling imagery and compassion, this beautifully written novel celebrates the power of love to flourish in the most unlikely places, if only there can be trust and forgiveness enough to accept it.
In Rainer Maria Rilke's words:
Again and again, however we know the landscape of love
and the little churchyard there, with its sorrowing names,
and the frighteningly silent abyss into which the others
fall: again and again the two of us walk out together
under the ancient trees, lie down again and again
among the flowers, face to face with the sky.
(2007, 400 pages)
More about My Enemy's Cradle at Powell's Books

Other novels featuring the Lebensborn program:
Arms of Deliverance by Tricia Goyer (2006) More info
Lebensborn by Will Berthold (German edition 1958; English translation 1977) More info

Nonfiction about the Lebensborn program:
Master Race: The Lebensborn Experiment in Nazi Germany by Catrine Clay and Michael Leapman More info
Children of World War II: The Hidden Enemy Legacy by Kjersti Ericsson () More info

Online:

The Lebensborn Program at The Jewish Virtual Library



Back to Historical Novels: World War II

Back to Directory of Book Reviews