My Brother's Shadow
by Monika Schröder
Reviewed by Margaret Donsbach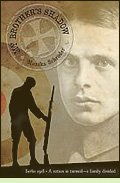 My Brother's Shadow takes place in 1918, when Germany came to a turning point near the end of the First World War. Sixteen-year-old Moritz, who works in the printing room of a Berlin newspaper, finds himself in the middle of political controversies.
Life in Berlin during the last winter of the war is hard. Moritz's father has died, and his family has little money. Their home is cold because of fuel shortages. Food is hard to get, too. They eat ersatz bread that tastes like paper, spread with jam made of turnips. Moritz's brother thinks everything will be fine once Germany wins the war. His mother opposes the government. Many people feel as she does: "The Kaiser has to go. Germany must be a democracy. Women must be allowed to vote."
Moritz just wishes life could be like it used to be, but it's hard to bring the old comforts back. When he tries to earn some extra money, he discovers he has fallen in with a gang of thieves. He's happier to meet a pretty girl with convictions like his mother's.
Some things turn out well for Moritz, but readers know Hitler will soon begin his rise to power. That makes it impossible for My Brother's Shadow to have a truly happy ending. Instead, it has a thoughtful ending that suggests how important it is for people to think about what kind of government they want. In the end, Moritz makes responsible, caring, courageous choices. Some Germans made similar choices. If more had, history might have been different. (2011; 217 pages, including an Author's Note about the history behind the novel. Recommended for ages 12-17.)
More about My Brother's Shadow at Powell's Books or Amazon.com
Interview with author Monika Schröder

Other YA novels set in Germany after the First World War:
Sacred Shadows by Maxine Rose Schur (1997), about a Jewish girl growing up in Germany from 1917 to 1932 before Hitler's rise to power. More info
Daniel Half Human and the Good Nazi by David Chotjewitz (2004), about a boy upset to discover he can't join the Hitler Youth organization because he is half Jewish. More info
The Book Thief by Markus Zusak (2006), about an orphaned German girl's efforts to survive the Nazis, and the help she finds in stolen books;a YA novel that many adults also enjoy. More info

Nonfiction about Germany after the First World War:
Rosa Luxemburg: In Her Own Time by Wendy Forrest (1989), about a leader of the mass protests in Germany in 1918. More info
Eleanor's Story: An American Girl in Hitler's Germany by Eleanor Ramrath Garner (2003), written by an American woman recalling her childhood in Germany from age nine to sixteen. More info
A Child of Hitler: Germany in the Days When God Wore a Swastika by Alfons Heck (1985), written by a man recalling his childhood in Germany when he became a member of the Hitler Youth. More info

Online:
Short biography of Rosa Luxemburg at the Stanford University website



Back to YA Novels, Early Twentieth Century

Back to Directory of Book Reviews