A Murderous Procession
by Ariana Franklin
Reviewed by Susan Gillmor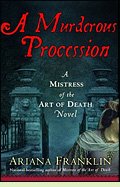 Fourth in the Adelia Aguilar mystery series, A Murderous Procession leaves several bodies in its wake as it travels from England to deliver King Henry's daughter Joanna to Palermo and her marriage to the king of Sicily. Henry manipulates Adelia (again) to leave her young daughter in England as she treks across the continent as Joanna's attending physician. Adelia refuses to believe the troubles and deaths that assail their cavalcade are part of a plot by an unknown enemy to isolate and wreak revenge on Adelia herself.
Readers, though, are privy early on to the sick thoughts of the man whose "hatred of the woman Adelia is infinite." She had killed his "joy, his life, his love, his mate, his Wolf," the brutal antagonist of a previous episode. But though we know her tormentor is part of the procession, his identity is not revealed until the tale's shocking end. The intricate plot unfolds slowly as Adelia watches the clues accumulate: "the death of a horse, the theft of her cross, the murder of two innocent people." Finally, she faces the reality that someone "wanted to destroy her, had inflicted the persona of 'witch' upon her." The villain uses as his kindling the religious intolerance creeping across the landscape of Europe.
The procession becomes a fascinating portrait of the ethnic and religious diversity of medieval Europe. Adelia is endangered by consorting with Cathars, considered dangerous heretics by the Roman Church. Rescued from burning at the stake, she finds sanctuary with the Catalans on the borderlands of Spain. Her party at last arrives in Palermo and "the sheer heterogeneity of the city . . . soothed the souls . . . who'd seen what intolerance could do." Adelia revels in "the noise of four different languages" and the "clash of violent colors" in a city that holds fond memories from her childhood.
A Murderous Procession is a well-wrought mystery and a thoroughly satisfying continuation of Adelia Aguilar's story. (2010; 337 pages, including Author's Notes separating fact from fiction)
More about A Murderous Procession at Powell's Books or Amazon.com
(also titled The Assassin's Prayer.)

Other mysteries involving medieval travelers:
Hangman Blind by Cassandra Clark (2008), about a abbess who sets out to find a location for her religious establishment and finds a mystery connected to a group of corpses at a gibbet. More info
The Templar's Penance by Michael Jecks (2003), about a pair of medieval sleuths called on to solve a murder mystery while they are on pilgrimage to Santiago de Compostela; #15 in the Knights Templar mystery series. More info
A Stolen Tongue by Sheri Holman (1997), a mystery involving disappearing relics and a fifteenth-century monk's pilgrimage to Alexandria. More info

Nonfiction about medieval heresies:
The Devil's World: Heresy and Society, 1100-1300 by Andrew Roach (2003). More info
Medieval Heresy: Popular Movements from the Gregorian Reform to the Reformation by Malcolm Lambert (1977). More info
Heresies of the High Middle Ages by Walter L. Wakefield (1969). More info

Online:
Joan of England, Queen of Sicily at Wikipedia



Back to Medieval: The Angevin Perioc

Back to Directory of Book Reviews