Murder on the Cliffs
by Joanna Challis
Reviewed by Margaret Donsbach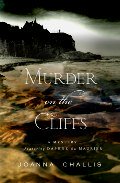 Murder on the Cliffs imagines that the young Daphne du Maurier happened across the corpse of a beautiful woman and couldn't resist investigating who murdered her, thereby gaining the inspiration for her masterpiece Rebecca. For fans of du Maurier's novels, it's an enticing premise.
In Murder on the Cliffs, Daphne is twenty-one and has not yet penned a novel, though she keeps a journal and has writing ambitions and an adventurous imagination. Escaping the 1928 London season with its pressure to find a husband, she visits her mother's retired nanny on the coast of Cornwall, "a dreadful old gossip." Danger appeals to Daphne. "Walking with the wind, I allowed it to determine my direction. . . . Along I went, mesmerized by the rising, angry ocean, its snarling waves lashing against the shapeless boulders." By page two, she has found the corpse, "her abundant black hair splayed across the sand, eyes wide open . . . still, lifeless."
Rebecca was du Maurier's fifth novel, not her first, but du Maurier fans will likely find this inconsistency easier to overlook than the style of the first-person narrative. Though atmospheric at times, it does not otherwise greatly resemble du Maurier's more seamlessly credible and psychologically perceptive style. When Daphne is startled, "The lukewarm tea stuck in my throat." She persuades reluctant villagers to talk by promising to keep their confidences to herself, and then immediately repeats them to her gossipy host. The cook in an aristocratic household of some twenty servants helps the head gardener move furniture into a room. Daphne recognizes a character because his eyes resemble those of his sister, whom she saw only as a corpse.
Murder on the Cliffs is the first in a planned series. The concept is appealing. If future sequels more closely approach du Maurier's precisely observed writing style, the series could find an appreciative audience. (2009; 292 pages)
More about Murder on the Cliffs at Powell's Books or Amazon.com

Novels of romantic suspense by Daphne du Maurier:
Rebecca (1938), about a woman whose marriage is threatened by the memory of his first wife, the beautiful, impeccably aristocratic Rebecca. More info
Jamaica Inn (1936), about a young woman who must go to live with relatives in a run-down inn on the Cornish coast and stumbles across a sinister secret. More info
My Cousin Rachel (1951), about a man who falls in love with his widowed cousin and then begins to wonder whether her husband's death was natural. More info

Nonfiction about Daphne du Maurier:
Daphne du Maurier by Flavia Leng (1995), a memoir by Daphne du Maurier's daughter. More info
Myself When Young: The Shaping of a Writer by Daphne du Maurier (1977; also titled Growing Pains), du Maurier's recollections of her early years and her struggle to succeed as a writer. More info
Daphne du Maurier: Haunted Heiress by Nina Auerbach (1999), a study of du Maurier's life and work by an expert in English literature. More info

At the Movies:
Rebecca
, Alfred Hitchcock's 1940 film starring Laurence Olivier and Joan Fontaine.
Jamaica Inn
, Alfred Hitchcock's 1939 film starring Maureen O'Hara and Robert Newton.

Online:
A 1977 interview with Daphne du Maurier at the Cornwall Guide website, about the house that inspired her novel Rebecca



Back to 20th Century: Europe Between the Wars

Back to Directory of Reviews